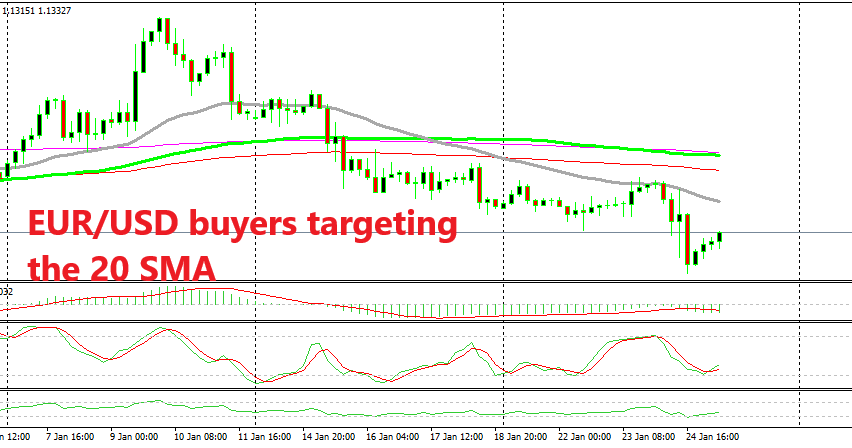 EUR/USD Targeting the 20 SMA Before the Next Bearish Move
EUR/USD turned bearish about two weeks ago at 1.1570 and the downtrend has been pretty smooth since then. Although, yesterday the downtrend picked up additional pace after the press conference from ECB president Mario Draghi which came at the same time as the US Commerce Secretary Wilbur Ross who made some comments on US-China trade negotiations.
He didn't look too optimistic about it and we saw a 40 pip tumble in the USD, which sent EUR/USD higher after the initial decline which came from Draghi's comments. Although, the USD got its act together pretty soon and this pair resumed the bearish trend, given that Draghi accepted the current weakness in the Eurozone economy.
As a result, EUR/USD lost more than 100 pips yesterday from top to bottom, but it has started reversing late in US session and has been retracing highers since then. Although, looking at the H4 chart, we can assume that the buyers are targeting the 20 SMA (grey) on the H4 chart.
This moving average has turned into resistance after providing support two weeks ago. Yesterday the buyers gave up right at this moving average. As the retrace evolves further and the price crawls higher, the stochastic indicator moves higher too.
By the time the price reaches the 20 SMA, stochastic will be overbought which means that the retrace higher will be complete. That would be the best time and place to sell EUR/USD, especially if we get a bearish reversal confirmation such as a doji or hammer candlestick. For now, let's just stand aside and watch the price action.