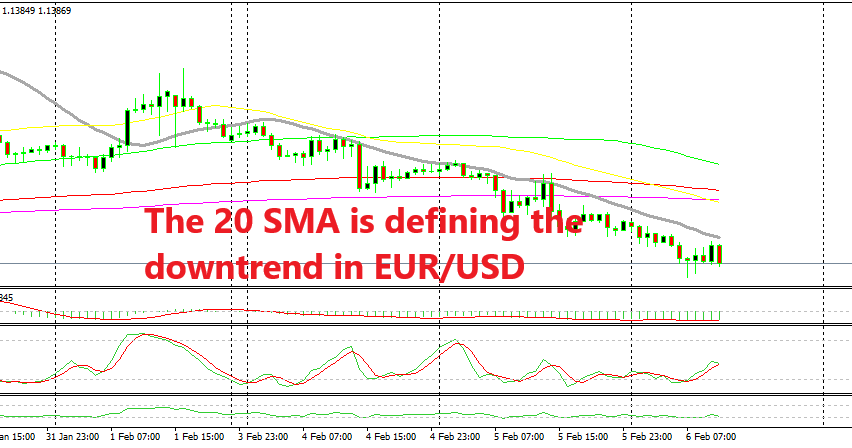 The 20 SMA Keeps Pushing EUR/USD Lower
EUR/USD turned bearish on Thursday last week after the 100 pip climb the previous day, following the FOMC meeting and press conference which the market took as dovish. This pair found support at the 100 SMA (green) on the H1 chart for a couple of days, but that moving average was broken on Monday this week and the bearish trend started taking form.
The sellers pushed below the other two moving averages on this time-frame chart, breaking below 1.1450 which is a support and resistance level. Today, sellers are pushing below 1.14, which means that the bears are in total control for now.
One of the indicators which is defining this downtrend is the 20 SMA (grey). This moving average turned into resistance immediately after it was broken last Friday and it has been pushing the price lower since then. All attempts to reverse the trend have ended up as mere pullbacks before the next move lower.
So, this moving average has been working as resistance during the last several days and today it rejected the price once again about 2 hours ago. As long as the 20 SMA stays above and provides resistance, the downtrend is safe.
If the price moves above the 20 SMA, then the sellers might start to get worried, but for now, everything is pointing down, so our bias is still bearish for EUR/USD. We might even try to get in on the short side if this pair retraces to 1.1400-20, but one thing at a time.