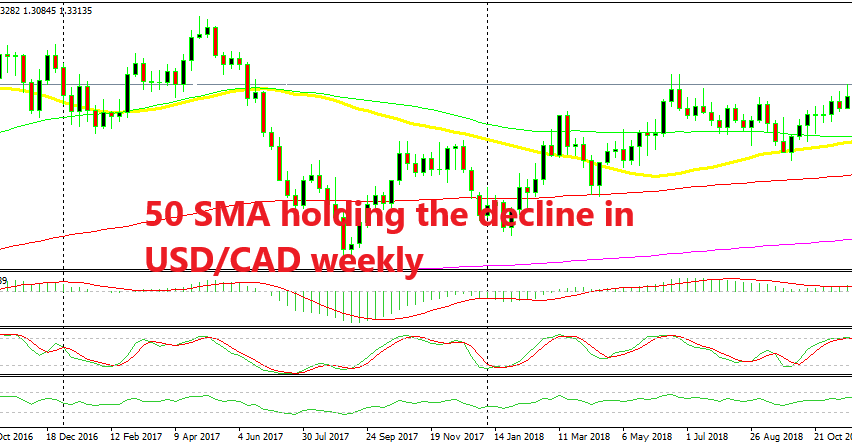 The Decline in USD/CAD Might Have Come to an End
USD/CAD has been declining during the previous five weeks as Crude Oil prices reversed higher from the three-month downtrend. US WTI crude gained around $14 while USD/CAD lost 6 cents as the CAD followed Oil prices higher.
But, that decline for the USD/CAD might have come to an end now. This pair has declined since the last week of December until the last week of January. But it has now become oversold, as the stochastic indicator shows. This pair has reversed whenever stochastic has been oversold or nearly oversold.
Besides that, the decline stopped right at the 50 SMA which has provided support on another retrace lower in September during this uptrend. After all, USD/CAD is still on an uptrend, right? Another technical indicator/pattern which tells us that this pullback might be over is the bullish engulfing candlestick pattern. Last week's bearish candlestick has been engulfed by this week's bullish candlestick.
This week's candlestick is not over yet and later we have the unemployment rate from Canada, but that might go both ways, or might come close to expectations and not impact the CAD.
And then there is Oil. Crude Oil is overbought on the weekly chart as well and has made a bearish engulfing pattern which is a reversing signal. So, if not resuming the uptrend, USD/CAD will at least post a decent bounce which it has already started.