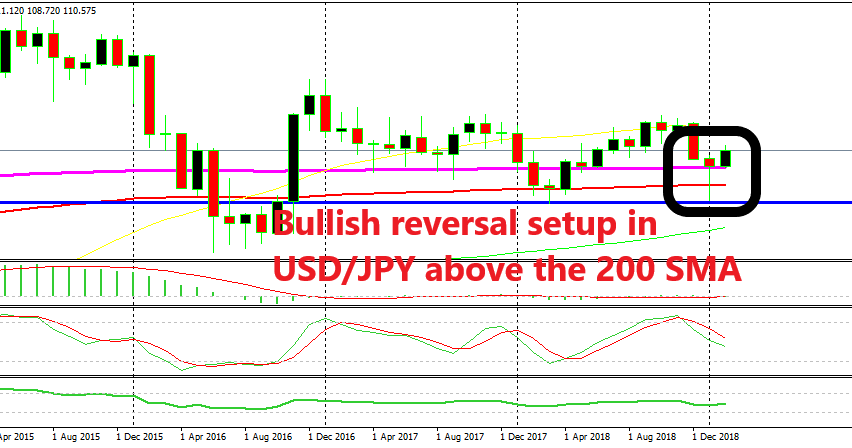 A Bullish Reversal Setup in USD/JPY Monthly Chart at the Beginning of Another Year
At the end of 2018 and the beginning of last year, USD/JPY turned bearish and completed a pullback lower on the monthly chart. It declined nearly 10 cents from the highs at 114.70s to the lows at 104.60s. Although, the monthly candlestick didn't close below the 100 SMA (red) which meant that the 200 SMA held as support. That monthly candlestick closed as a doji, which is a reversing signal, and this forex pair turned bullish during most of 2018.
At the end of last year and during January 2019, we have seen a similar pattern being formed on the monthly chart. The price turned bearish at the end of last year at 114.50s as the sentiment turned negative in financial markets and this pair lost around 10 cents again, falling to 104.80s. This means that this pair has formed a range with resistance at 114.50-70 and support at 104.60-80.
This time it was the 100 SMA (red) which provided support. This MA and the 200 SMA were pierced as USD/JPY crashed around 5 cents lower in the first trading day of the year amid extremely thin liquidity but eventually, January's candlestick closed above the 100 SMA and formed a hammer, which is also a bullish reversal pattern.
Will last year's price action repeat again this year? This month is already looking bullish and this pair has already recuperated more than half the losses of the recent months, so 114 doesn't look so far. But again, the global economy is on a declining path and the near future looks even more bleak, which means increased demand for safe havens. So, we have to keep that in mind too if we're to trade long term charts in this pair.
Gold already looks pretty bullish as global political and economic uncertainties increase. If that continues, it will spill into the JPY sooner or later, meaning it might turn this pair bearish in the coming months.