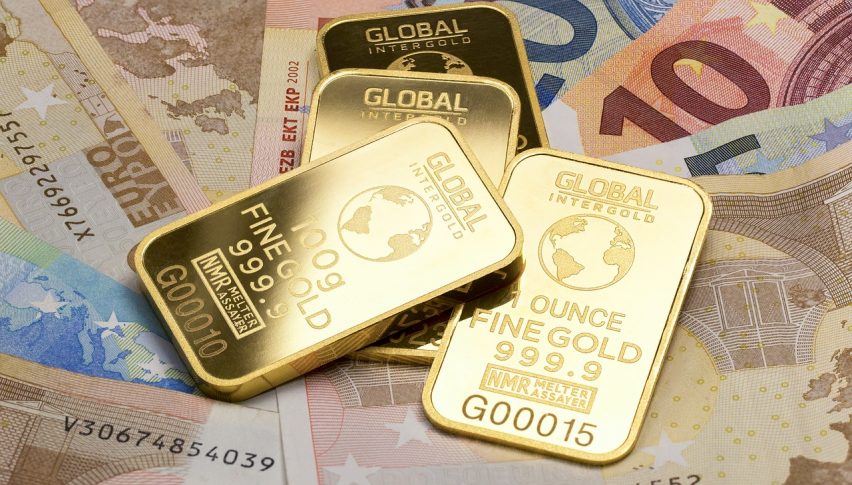 Gold Breaks To The Bear, Tests 1320.0
Posted Wednesday, February 27, 2019 by
Shain Vernier
• 2 min read
While it has been a quiet day on Wall Street, the bullion markets have been extremely active. April GOLD futures have broken out to the bear on heavy volumes. 165,000 contracts have already been traded and a drop of more than $10 per ounce has come to pass. It appears as though any angst over the U.S./North Korea summit and former Trump attorney Michael Cohen's Congressional testimony has subsided.
At this hour (1:30 PM EST), Cohen continues to answer questions from members of Congress regarding his dealings with President Trump. The proceedings do not much resemble an official hearing, but more like political grandstanding. As of yet, no bombshells have been dropped and the whole event looks like Cohen is auditioning for a book deal.
April Gold Futures: Technical Outlook
Earlier this week, I pointed out that April gold futures were in a consolidation phase around a key Fibonacci retracement level. Today's action has taken price from this area and sent bullion to a trend day down.
With only a few hours left in the Wednesday session, here are few support levels to keep a close eye on:
Support(1): Bollinger MP, 1319.1

Support(2): Daily SMA, 1317.1
Overview: It appears that the Trump/Un summit and Cohen hearing did not create the paranoia that many gold traders were hoping for. Going into today, the technical outlook for bullion was fairly bullish. Now, this market is on the verge of a correction.
Thursday is going to be a key session for the U.S. indices as well as gold. Q4 GDP is due out during the pre-market hours and is widely expected to miss projections of 2.3%. In fact, several mainstream media outlets are predicting Q4 GDP to slip beneath 2%, dragging the annual figure beneath 3%.
If GDP misses the mark badly, April gold will be in a position to rally. However, if Q4 GDP meets expectations, the rally in stocks is likely to continue and bullion may enter correction. Either way, this market is likely to post an active Thursday session.