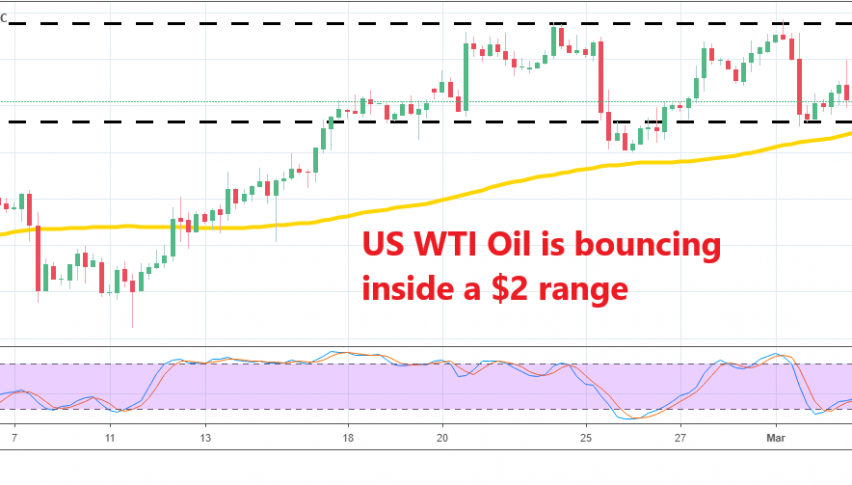 US WTI Crude Oil Trading Inside a $2 Range
Crude Oil turned bearish in the last week of February after Donald Trump's tweet that Oil prices are too high and OPEC should do something about it. Crude Oil made a bullish reversal at the end of December and WTI crude climbed from around $42 to around $58 in two months, but that tweet turned the price around and WTI fell nearly $3 that day from 57.70-80.
But in the following days, crude Oil recuperated the losses and climbed to that level again. Although, the buyers couldn't push above that level once again so it seems that the area around $57.70-80 has now turned into solid resistance. On the bottom side, US Crude Oil has formed a support level at $55.60-70.
That bottom level used to be resistance before and you can see from the H4 chart above that it has reversed the price lower back at the beginning of February. Now it has turned into support and, as a result, we have a range in US Oil between $55.70 at the bottom and $57.70 at the top, roughly speaking.
Today, the 50 SMA (yellow) has caught up and it is adding more strength to the support area. Oil is turning higher from there now which seems like a good opportunity to go long and target the top of the range. The stop loss would be below $55.50 normally which would give you a 3:1 win/loss ratio more or less.
I'm not certain I will take this opportunity, but is seems like a nice range to trade to me, especially going long from the bottom since the trend is still bullish and the 50 SMA is doing its job.