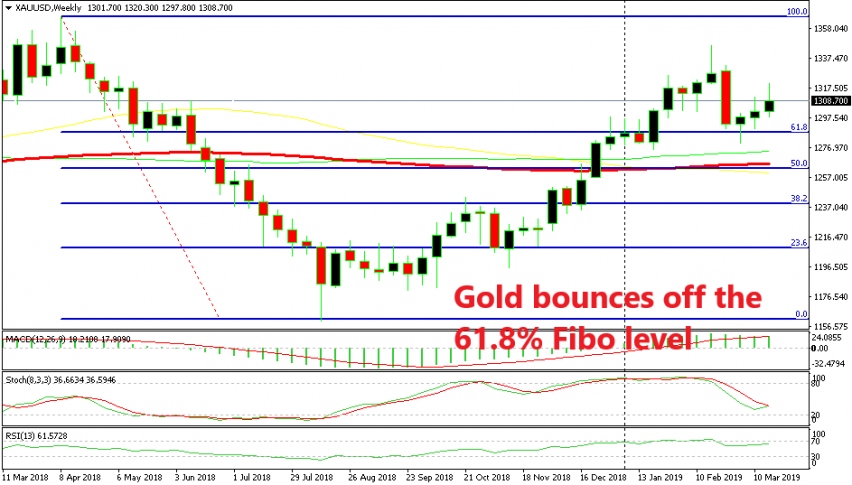 Gold Turns Bullish Again on Weekly Chart After Refreshing Lower
GOLD had a fun year in 2018. It turned bearish during the H1 of last year and at the end of Summer, losing more than $200 from top to bottom, but then it turned bullish, recuperating more than half of the losses from H1. The year ended right at the 61.8% Fibonacci retracing level and failed to break above the $1,300 level.
That was a sign that the buyers might have had enough. But, come new year and the uptrend resumed again, braking above the $1,300 level. Buyers pushed to $1,346 but the price made a steep reversal up there and GOLD fell back below $1,300. But, the weekly candlestick didn't break the 61.8% Fibo level; it pierced that level but eventually, the weekly candlestick closed above it.
That candlestick closed pretty bullish actually, forming a hammer which is a reversing signal after the pullback lower. That was followed upwards by two bullish candlesticks and this week is nearly over. Although, these three bullish candlesticks are pretty small compared to the bearish one at the last week of February.
This means that the buyers have lost strength. So now, it's a question whether the buyers will push higher and resume the uptrend, which means taking out the previous highs, or make another bearish candlestick which would put the pressure on the downside. I guess we'll have to wait and see which side will win.