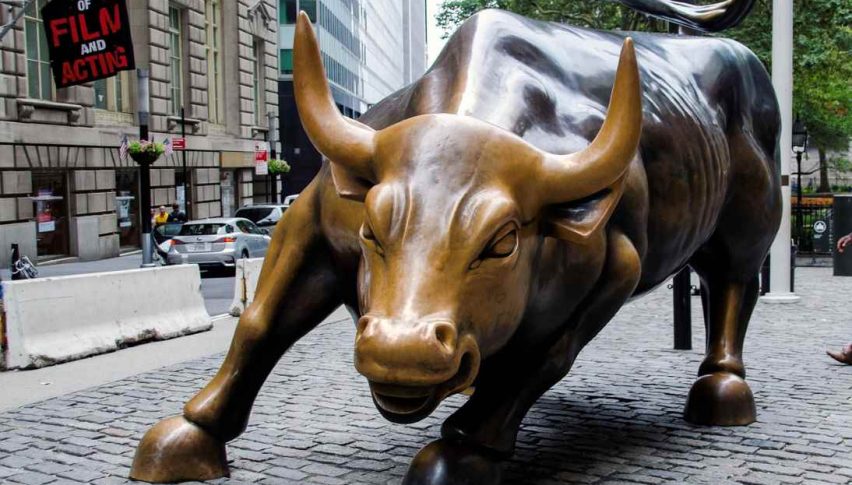 DJIA On The Bull, 26500 In View
Following a positive collection of jobs reports, the U.S. indices have opened mixed. At least for the DJIA, optimism has dominated early action on Wall Street. An hour into the trading day, the DJIA(+90), S&P 500 SPX (0), and NASDAQ (-27) are posting conflicting numbers.
During the U.S. pre-market hours, we may have been delivered a preview of Friday's Nonfarm Payrolls for March. Here is a quick look at the data:
Event                                                        Actual      Projected   Previous
Initial Jobless Claims (March 25)            202K           216K             212K
Continuing Jobless Claims (March 18)  1.717M       1.750M        1.755M
This is a pretty good set of statistics facing the U.S. labor market. If NFP comes out above the projected 180K number tomorrow, stocks may be headed higher by the weekend break.
DJIA Extends Wednesday's Gains
Early action in the June E-mini DOW has been positive, fueled by speculation of the U.S./China trade war coming to an end. The result has been another contract high and the 26500 level coming into view.
Overview: The DJIA remains in bullish territory and is closing in on posting fresh all-time highs. In the event we see a blockbuster NFP report Friday, this market is likely to extend past the 26500 handle by the weekend break.