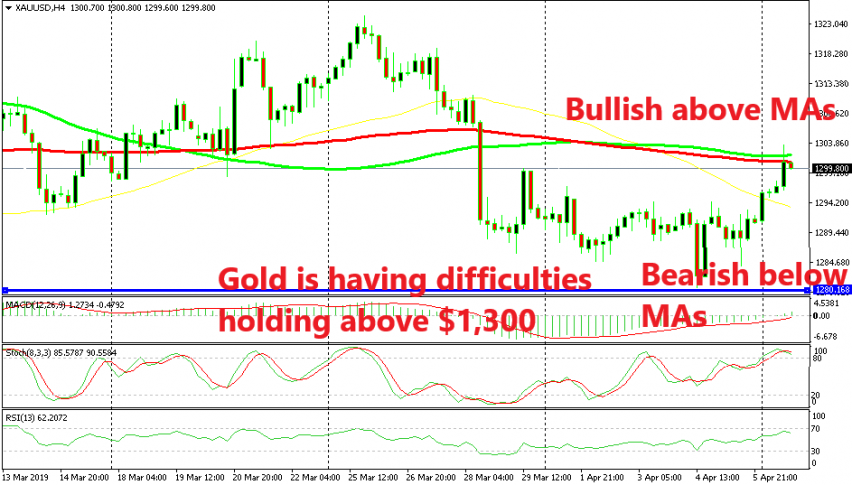 Gold Having Second Thoughts at the $1,300 Level
The price action has been pretty quiet today for most financial assets, given the light economic calendar. But, we are seeing some decent move in safe haven assets such as in JPY and in GOLD. On the other hand, the CHF has been pretty weak, which means that this might not exactly be a risk aversion move because risk currencies such as the Euro and commodity Dollars are up against the Buck as well. This simply points to USD weakness.
Anyhow, Gold has been taking advantage of the weaker Dollar and it has been making some decent gains today. At some points Gold pushed to $1,303.60 about an hour ago, bit it has pulled back and is now trading around the $1,300 level. This level has been broken from above and below many times, but it still has a heavy shadow surrounding it, so traders are aware of such major levels.
As I said, Gold pushed above it a while ago but it pulled back. The price is now trading below the two 100 SMAs, the smooth 100 MA (red) and the simple 100 MA (green). So, it seems that these two moving averages are providing resistance for GOLD now. It is not clear now whether the bulls will remain in control or if bears will take things on their hands. But, stay below $1,300 and Gold is bearish and break above the moving averages and above $1,300 and Gold will be bullish.
Yesterday the FED delivered a hawkish pause with the DOT Plot pointing to more rate hikes, today the SNB and the BOE should hike by 25 bps
3 days ago