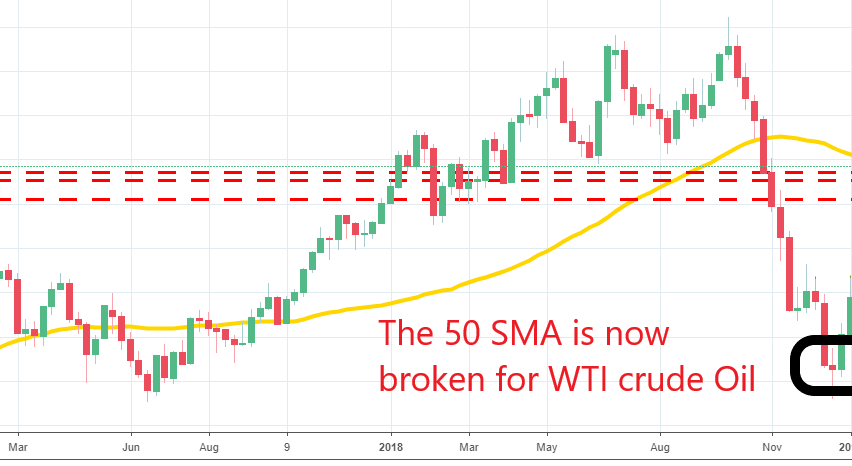 WTI Oil Moves Above the 50 SMA Despite Russia's Wish to Increase the Output
OPEC+ countries decided to cut the Oil output production by 1.2 million barrels at the end of last year. That proved to be successful after Oil had been declining pretty quickly in the previous three months and crude Oil made a bullish reversal. We got a sign for the reversal as WTI crude formed a doji candlestick on the weekly chart, which is a reversing signal.
Since then, WTI crude has gained more than $20. But we know that OPEC+ members don't like the production cut. Almost all those countries rely heavily on revenues from Oil exports for everything and the global economy is pretty weak as well right now, meaning that they are even more dependent on Oil revenue.
So, they would like to go into full production ASAP and Russia already seems tired of the quotas. Russia's Kirill Dmitriev was speaking a while ago, saying that OPEC+ could decide to raise oil output at June meeting. He is one of the main guys behind the OPEC+ agreement to cut production at the end of last year, which makes this even more interesting.
WTI Crude Oil has been trading sideways today, but it remains pretty bullish on the weekly chart as you can see above. Last week's weekly candlestick looks pretty bullish and it closed above the 50 SMA (yellow) which is a sign that the door for further upside gain is open. But, we will have to watch the price action in the coming days/weeks if such rumours suggesting an end to production cuts keep coming, because this will be a good opportunity for shorts if the markets gets convinced that OPEC+ will decide to resume full production in the June meeting. But, let's wait and see if more voices pop up.