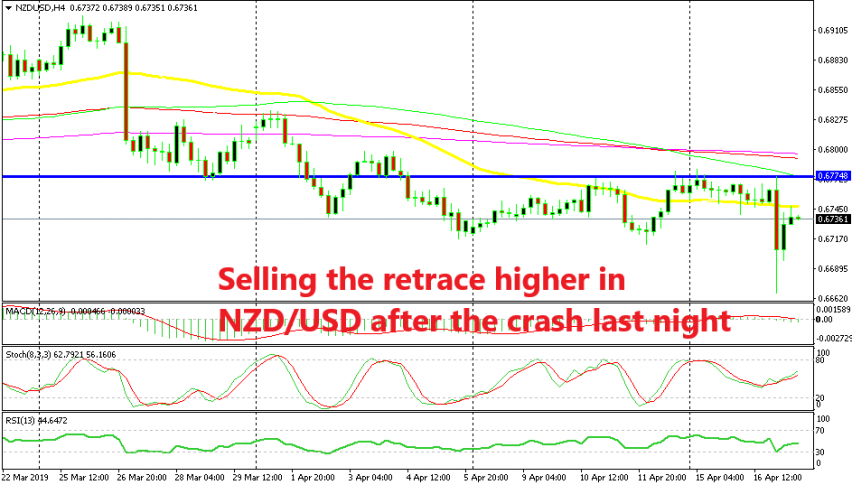 Shorting the Retraces in NZD/USD After the Crash on Inflation Miss During the Asian Session
Commodity currencies have been trading on an uptrend in the last two weeks since the Chinese services and manufacturing PMI indicator came back into positive territory two weeks ago, indicating that the Chinese economy is reversing from the softening trend of last year. This has improved the sentiment, especially for the Aussie and the Kiwi since the respective economies also benefit from economic growth in China.
But, the Kiwi has been lagging behind the Aussie; while AUD/USD is still trending higher this week, NZD/USD has traded mostly sideways. That was until last night. Today this pair has turned dovish after the CPI (consumer price index) inflation missed expectations for Q1 of this year. Inflation was expected to increase to 0.3% in Q1 after falling to just 0.1% in Q4 of last year, but it remained unchanged at 0.1%.
This means that inflation has really softened in New Zealand as in all other developed economies which is negative for the NZD since the Reserve Bank of New Zealand will remain neutral for quite some time to come and might even turn bearish now.
As a result, NZD/USD lost more than 100 pips in less than an hour during the night and now the situation is pretty bearish for this pair. Although, we have seen it pull back 80 pips higher.
We are taking this opportunity to open a sell forex signal in this pair, hoping for the bearish move to resume soon since the retrace is complete now as the stochastic indicator shows. We sold below the 50 SMA (yellow) since this moving average is providing resistance on the H4 chart.
Durable goods orders showed a 0.2% increase in August, against -0.5% expected and July's -5.2% decline, which was revised to -5.6%
5 hours ago