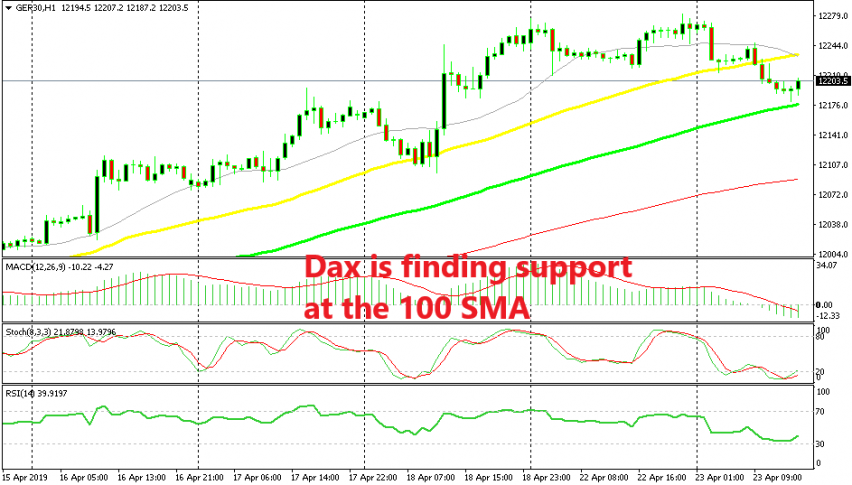 Going Long on Dax as Stocks Retrace Lower
Stock markets have been on a solid uptrend since late March after the retrace following the dive in European manufacturing PMI reports last month. We saw another retrace lower two weeks ago, but that was quite shallow and since then the pressure has been strongly on the upside.
As you can see from the H1 chart above, the retraces in DAX  have been really shallow as far back as the chart shows. Although, today we are seeing a decent pullback on this time-frame. The reason for this is the negative reversal in the market sentiment after the US announced that it will go full with sanctions on Iran's Oil. China obviously objected this since it is the main export market for Iran's Oil.
As a result, stock markets are retracing lower and Dax has broken the 50 SMA (yellow) on the H1 chart. This moving average has been providing solid support throughout last week, which shows that the trend is pretty strong. That moving average provided support today again during the Asian session, but eventually gave up.
Now, it seems that the 100 SMA (green) has turned into support for Dax. The price kissed this moving average slowly and it is reversing back up after forming a pin, as the previous H1  candlestick shows. The pin is a bullish reversing signal and it looks like Dax is starting to reverse now.
We decided to go long on this pullback, so here we are now. Let's hope that the bullish trend of this year will resume soon.