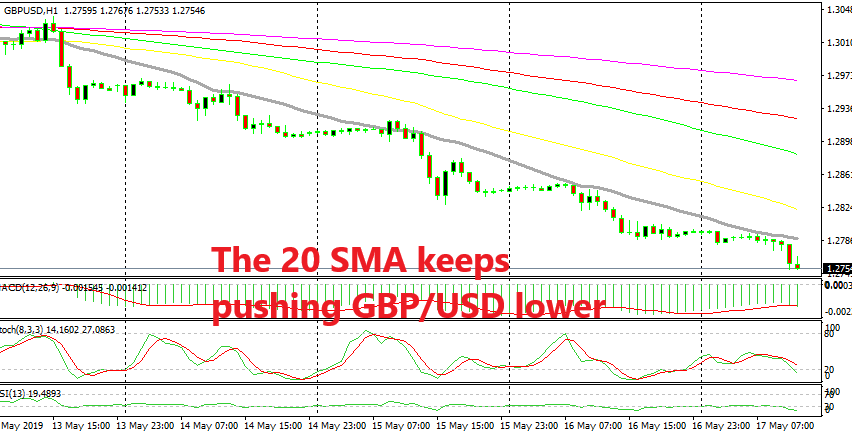 GBP/USD Respects the Downtrend Perfectly as Chances of a Brexit Deal Diminish
GBP/USD has had a pretty bad week, having lost nearly 300 pips since Monday and it is getting worse. This pair turned bearish on Monday last week, but the bearish momentum has picked up pace this week, as chances of a Brexit deal keep getting lower by the day and we head towards the fourth Parliamentary vote in the UK.
The opposition Labour Party leader Jeremy Corbyn has popped up after the meeting with Tories which is over now, and it seems that there is no consensus now. The talks are over, which suggests that the vote to pass the Brexit deal will fail once again now. Here are his comments:
Brexit talks with government have 'gone as far as they can'
Labour will continue to oppose May's Brexit deal
Will consider any new proposals from government on Brexit
Tories' move to select new leader has eroded government's authority
GBP/USD continues to slide lower and the 20 SMA (grey) is defining the trend for this pair on the H1 chart as it pushes this pair down every time it meets with the price. We opened a sell signal yesterday in the morning which closed in the US session. There was another selling opportunity this morning but we missed it. Now we are waiting for the 20 SMA to catch up with the price again and will probably sell when it happens.