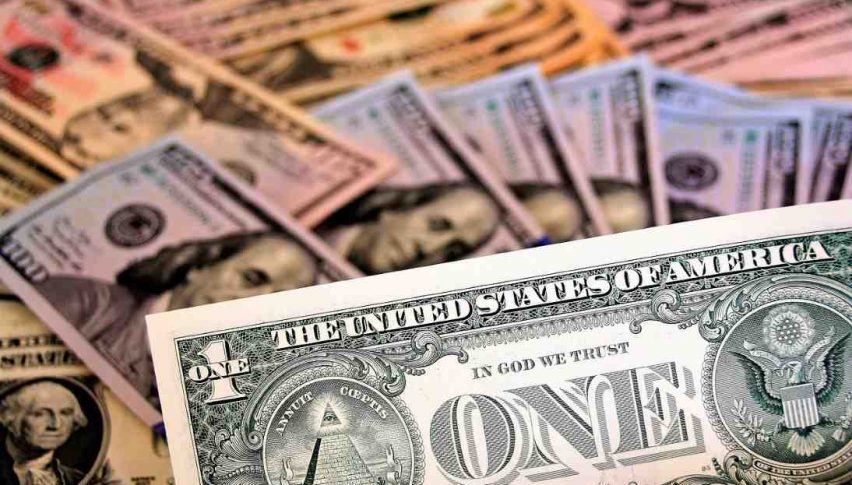 Weekly Update, May 20-24: Top Economic Events to Trade This Week
Posted Sunday, May 19, 2019 by
Arslan Butt
• 4 min read
What's up, folks. Last week was light from fundamentals' viewpoint but the markets exhibited serious price action and volatility despite the absence of major economic events. On Friday, the Greenback strengthened as concern about next week's European parliamentary elections depressed demand for the single currency Euro, while the British pound fell to a four-month low on concerns about Britain's exit from the European Union.
Most traders felt hesitant to get into swing trades due to uncertainty about the US-China trade war. Looking ahead to this week's fundamentals, a series of speeches from global central bank officials, monetary policy minutes, European manufacturing and services PMIs, retail sales from New Zealand, Canada and the UK share the stage. Here's what to expect from them.
Watchlist – Top Economic Events This Week
Monday – May 20
On Monday, we have speeches from FOMC members Governor Richard Clarida and Fed Chair Powell.
FOMC Member Clarida is due to speak about the Federal Reserve's policy strategy, tools, and communication practices at an event hosted by the Federal Reserve Bank of New York at 17:05 GMT.
Fed Chair Powell is due to deliver a speech titled "Assessing Risks to our Financial System" at the Financial Markets Conference in Florida at 23:00 GMT. Audience questions are expected, and so is volatility.
Tuesday – May 21
AUD – Monetary Policy Meeting Minutes
The Reserve Bank of Australia is due to release the Monetary Policy Meeting Minutes at 1:30 GMT. It's a detailed record of the Reserve Bank Board's most recent meeting, providing in-depth insights into the economic conditions that influenced their decision on where to set interest rates.
Having witnessed a surprise no rate cut from the Reserve Bank of Australia (RBA) lately, global investors will be closely looking for details and clues from monetary policy meeting minutes. The Australian central bank sent a clear cut message about its near-term growth and inflation, for instance, CPI forecast is being trimmed to 1.75% from 2.0% for 2019. While the GDP might grow 2.75% versus 3.0% previous anticipation during 2019 and 2020.
GBP – Inflation Report Hearings
On Tuesday at 8:30 GMT, the Governor and the MPC (Monitory Policy Committee) are gonna testify on the inflation report before the parliament. The hearings are a few hours in length and can create market volatility for the duration. Especially noted are the direct comments made about the currency markets.
Let us recall that the UK's inflation rate is still in the range, but this month fell to 1.9%, missing the 2.2% forecast. In this report hearing, investors need to see what they are expecting in the future.
NZD – Retail Sales q/q
The Statistics New Zealand is due to release the retail sales data at 22:45 GMT. It's the primary gauge of consumer spending which accounts for the majority of overall economic activity. Economists look very optimistic about retail sales as the figures are expected to jump by 0.6% vs. 1.7% beforehand. Considering this, investors are likely to continue trading the New Zealand dollar with a bearish sentiment.
USD – Core Retail Sales m/m
This also shows a change in the total value of sales at the retail level, excluding automobiles. The data is also due at 22:45 GMT and core retail sales are expected to grow by 0.9% vs. 2% beforehand. So it justifies an interest rate cut from the Reserve Bank of New Zealand.
Wednesday– May 22
GBP – CPI y/y
The UK's Consumer Price Index grew by 1.9% in April vs. 2.2% forecast and justify the Bank of England's no interest rate hike for that month. A stronger CPI data of 2.2% is on the cards for May. Despite the stronger numbers, the Bank of England is likely to keep rates unchanged over the uncertainty triggered by Brexit talks.
CAD – Core Retail Sales m/m
The figure shows a change in the total value of sales at the retail level,
excluding automobiles. A higher number of retail sales signals growth in the economy. Statistics Canada is due to release the figure at 12:30 GMT. Canadian retail sales surprised the market with a 0.6% jump in April. Another jump of around 0.8% is on the cards in May.
USD – FOMC Meeting Minutes
The dollar turned bearish after the Federal Reserve kept the interest rates low in April and May over signs of a global economic slowdown.
On Wednesday at 18:00 GMT, the FOMC meeting minutes will shed some light on a few major topics. Such as how FOMC members interpret the trade war and the consequences of a trade war on the US economy. Should the Fed change its monetary policy? Well, it's just my opinion about the current FOMC meeting minutes and I'm also expecting a neutral response of investors on its release.
Thursday – May 23
European Parliamentary Elections
Over 400 million Europeans are going to the polls this week in all 28 EU countries to elect 751 members of the European Union Parliament to new five-year terms.
Voting Schedule
Britain and the Netherlands vote on Thursday, May 23
Ireland votes on May 24.
Latvia, Malta, and Slovakia vote on the 25th.
In the Czech Republic, voters have two days to get to polling stations, the 24th and 25th.
21 of the EU's 28 members go to the votes on May 26, a Sunday, including France, Germany, and Poland.
Thursday – May 24
GBP – Retail Sales m/m
Office for National Statistics is due to release the retail sales data at 8:30 GMT. As discussed earlier, it's the primary gauge of consumer spending which accounts for the majority of overall economic activity.
Economists look optimistic about retail sales as the figures are expected to jump by 1.1% vs. -0.3% beforehand. Sterling may remain supported and trade with a bullish sentiment over better than expected forecast.
Besides that, the traders will also focus on the Core Durable Goods Orders from the United States. The figure had been quite shaky throughout 2018, but improved recently and showed 0.4% growth in orders. Current month figures will also reveal the trade war impact of the market.
That's it for today, we'll see you guys again on Monday with exciting trade setups and forex trading signals. Stay tuned to FX Leaders, and have a lovely weekend!