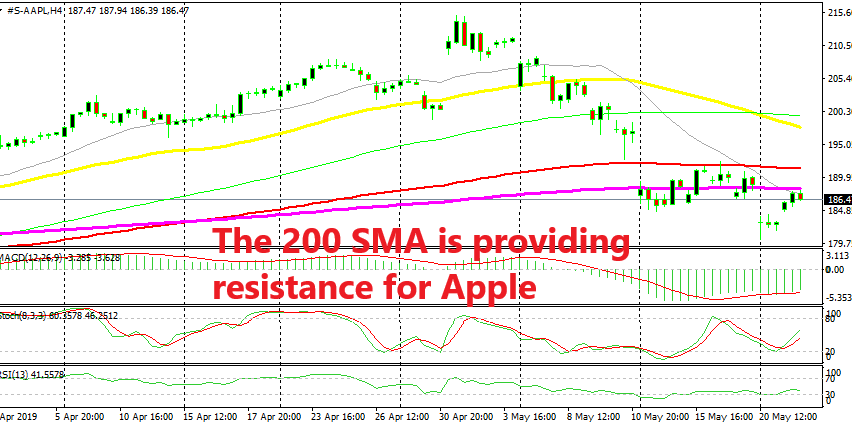 A Good Opportunity to Sell Apple as it Remains Bearish on Trade War Escalation
Apple shares have been on an uptrend since the very end of last year as most major stock indices started to turn positive following a terrible last quarter in 2018. But in the last two weeks Apple shares have turned pretty bearish as the trade war escalated, turning the sentiment negative and we know that risk assets such as stock markets and commodity Dollars turn pretty bearish when the sentiment turns negative.
But Apple has another strong reason to turn bearish. The US is targeting Huawei as a technology thief and China has threatened to retaliate with tariffs on Apple products. So, the situation seems pretty bad for Apple shares and it has turned more bearish than the rest of major stocks for this reason.
On the daily chart is the 100 SMA which is providing resistance
On the H4 chart which is at the top, the price has broken below all moving averages and it is finding resistance at the 200 SMA (purple) after a retrace higher yesterday. If we switch to the daily time-frame which is the chart above, we see that the price is now finding resistance at the 100 SMA (red) after bouncing off the 200 SMA (purple).
If these moving averages hold, then the trend has changed for Apple. Although, we will see when the US markets open in a while. But judging by the rest of stock markets which have turned bearish again today, Apple shares should open with a bearish gap lower, let's see.