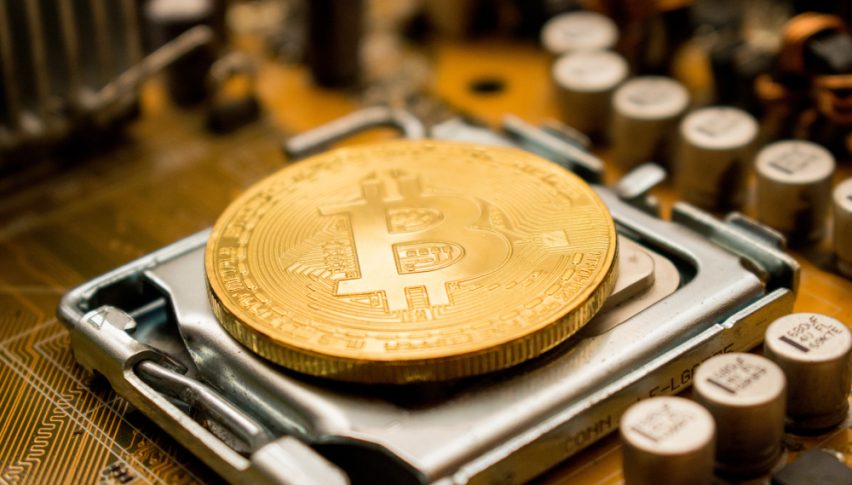 The cryptocurrency market seems to be in a healthy correction right now. There might be an excellent entry point for those who missed the recent price hike very soon. While Bitcoin sets the tone for the overall crypto market trend, there are certainly some cryptocurrencies non-correlated to Bitcoin trending right now. To find out which ones those are, we take a look at the overall market by technical analysis of Bitcoin, Ethereum and XRP.
BTC/USD DAILY CHART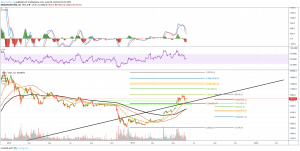 Bitcoin initiated a correction this week as assumed in the previous analysis, after surging as high $9175 where it faced rejection at the 0.382 fib ext. level. While the MACD recently crossed bearishly, the histogram is ticking higher which is rather bullish. The RSI seems to trend towards the oversold region, but for now, the MACD and RSI give no clear signal whether Bitcoin is trending higher or further down. One thing for certain is that Bitcoin finds several support zones if it continues to retrace:
Minor support is at $7460 where Bitcoin bounced off this week and if it falls below this support, the next support will be found between $6500-$7200, where the 50-day-EMA, the 3-year-trendline, and the 0.382 fib level act as major support. Furthermore, the 0.236 fib ext. level is located at $6825 which acts as additional support.
If all those levels fail to hold, Bitcoin could still find support at the golden ratio between $5250 and $5450 where the 200-day-EMA and the 100-day-MA are located as well. As long as the golden ratio level holds, Bitcoin can be considered bullish. Thus, it might be interesting to buy these support levels and for now, it seems likely that Bitcoin reaches down to $6800. Although, it could also stop its correction wave at around $7200 already. Therefore, buyers could place several long positions between $6500 and $7200 and set massive buy orders at the golden ratio at around $5350.
ETH/USD DAILY CHART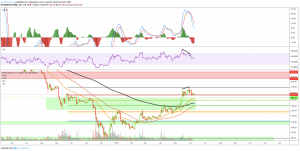 Ethereum initiated its correction wave after the RSI showed a bearish divergence in the previous week. The MACD crossed bearishly recently and the histogram is ticking lower, which indicates further downward movement. Ethereum is currently at the 0.236 fib level support, but this support level seldom holds successfully which makes further downward movement more likely.
Furthermore, Ethereum finds major support between $150-$220, where the golden ratio, the 100-day-MA, the 200-day-EMA, and the 50-day-EMA are located at. Since the market is still very bullish, it is questionable if it reaches as low as $150. For now, it seems likely that Ethereum declines down to around $200, where a bounce of the 0.382 fib level is likely to happen.
As long as Ethereum holds above $150, we could assume further upward movement in the upcoming weeks and months.
TOTAL CRYPTO MARKET / USD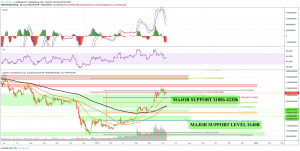 The total market capitalization chart of the cryptocurrency market reached the major resistance at $280b, where it faced harsh rejection. For now, it seems likely that the total cryptocurrencies' capitalization reaches down to $194b-$218b, where the 0.382 and 0.236 fib level as well as the 50-day-EMA act as additional support in the major support zone between $180b-$220b.
XRP/USD DAILY CHART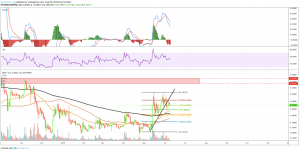 The MACD indicates bearishness as the histogram is ticking lower and the MACD lines recently crossed bearishly. XRP bounced of the 0.5 fib level this week and faced rejection at the 0.236 fib level. It seems likely that it retraces down to the golden ratio at $0.36 where the 50-day-EMA, as well as the 200-day-EMA, act as additional support. After the correction is completed, XRP will most likely continue its uptrend towards the major resistance at around $0.55.
FTM/USD DAILY CHART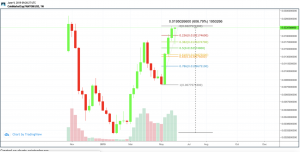 One of the non-Bitcoin-correlated cryptocurrencies seems to be FTM right now, which surged by an incredible 600 percent since its low in February 2019. It seems quite likely that FTM is about to initiate its correction, which would make $0.0135 at the golden ratio an interesting buy target.
The biggest gainers of the week were
SOLVE, which surged by 115 percent,
IGNIS, which gained by 225 percent, and
QUANT, which rose by 113 percent.
There was some interesting news this week, as Justin Sun (the founder of TRX) had dinner with Warren Buffet, which spread rumors about Warren Buffet entering the crypto market. However, this seems rather unlikely as Buffet repeatedly declared his aversion to Bitcoin.