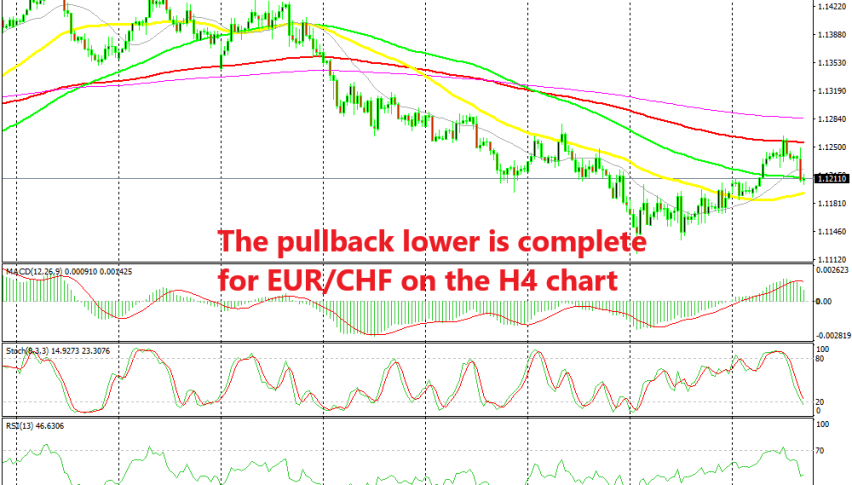 Buying the Pullback in EUR/CHF After the SNB Press Conference
EUR/CHF was trading on a bearish trend during May but the trend reversed last week after finding support above 1.11, where a base seems to have formed. The reversal came after the Swiss National Bank threatened to intervene, which they often do by buying this pair.
So, the reversal took place last week and it continued this week too, but the price ran into the 100 smooth MA (red) on the H4 chart yesterday where it found some strong resistance. The price pulled back after that, but the biggest pullback came today after the SNB press conference. The SNB did say in the monetary policy statement that "Franc remains highly valued and will remain active in foreign exchange market as necessary" which is another threat to EUR/CHF sellers.
But that wasn't enough and Chairman Jordan didn't mention intervention and said that he won't forecast what the next SNB move may be, inflation expectations are well anchored and there is no reason to tighten the monetary policy. I suppose this sounded too soft for CHF traders and EUR/CHF dipped nearly 50 pips after that.
This latest dip took us close to the 50 SMA (yellow) which provided resistance in the last three weeks and now it should turn into support, since the trend has shifted to bullish. The price is now trading around the 100 simple MA (green) which is also helping by keeping the pullback in check, so a bullish reversal is expected and we decided to go long on this pair. The price is still too low for the SNB and they are always ready to get in and mess with the markets, so the buyers will remain in charge for some more time.