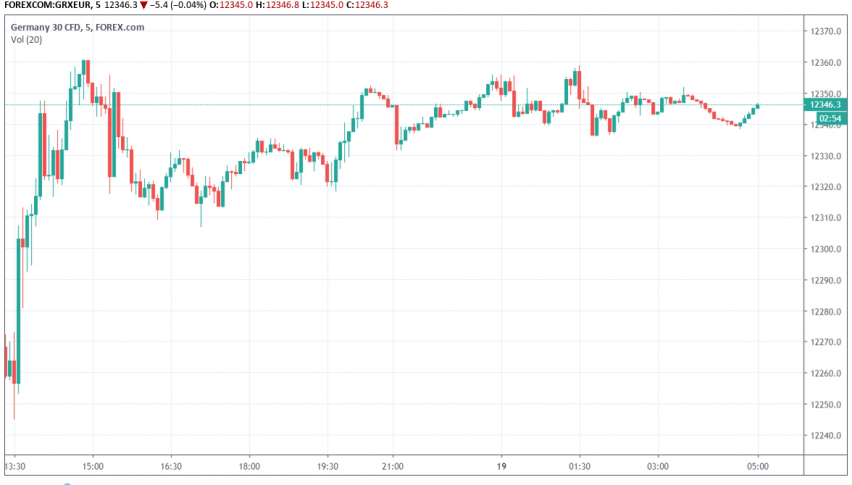 European Stocks Climb Higher on Draghi's Dovish Remarks, Resumption of US-China Trade Talks
Posted Wednesday, June 19, 2019 by
Arslan Butt
• 1 min read
On Tuesday, European stock markets soared to six-week highs over ECB President Mario Draghi's remarks about the central bank stepping in with stimulus efforts to manage inflation target. On Wednesday, the sentiment has improved somewhat over the possibility of resumption of trade talks between US and China at the G20 summit.
Draghi had stated on Tuesday that the ECB could explore cutting interest rates or initiating asset purchases to get inflation back on track and towards the central bank's target of under two percent. While his dovish remarks caused weakness in the Euro, global stock markets rose higher. France's CAC and German DAX ended over 2% higher on Tuesday's close. At the time of writing, CAC is trading above 5511 while DAX has crossed 12346.
Trump confirmed on Tuesday that he would be sitting down with his Chinese counterpart, Xi Jinping, on the sidelines of the upcoming G20 summit at the end of this month. After several days of quiet, China also confirmed this and now both teams will begin preparations for the next meeting between the two world leaders.
These latest comments from Trump and China have served to improve the market sentiment after weeks of uncertainty and escalating tensions, ever since trade discussions between both sides came to an abrupt halt. While addressing reporters at the White House, Trump remarked, "I think we have a chance. I know that China wants to make a deal. They don't like the tariffs, and a lot of companies are leaving China in order to avoid the tariffs."
The USD is looking softer today after the unemployment claims showed a jump to the highest since October 2021 last week
2 days ago