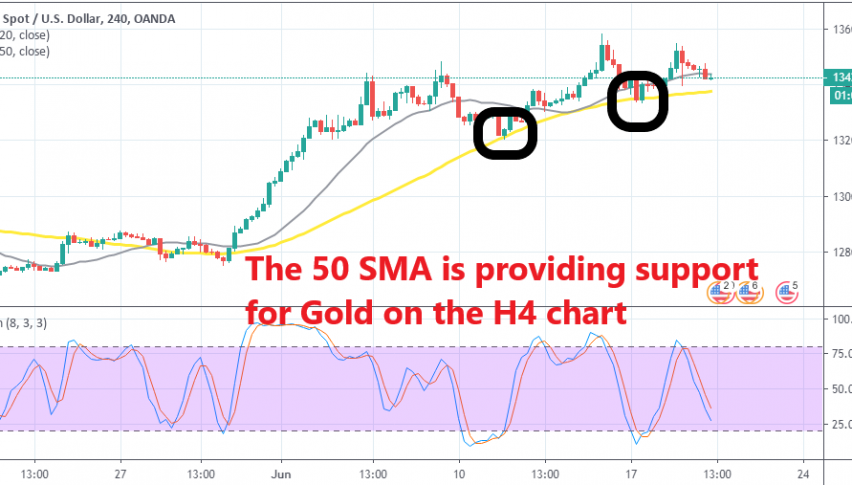 Gold Remains Near the Top Ahead of the FED, Supported by the 50 SMA
GOLD has been on a bullish trend since it reversed higher in August last year as the global economy started to slow down considerably and the sentiment turned massively negative in financial markets. The climb stopped in February and we saw a pullback lower in the following months, with the price declining below the $1,300 level. But, the price formed a bottom around $1,265 and in the last few days of May, Gold made another bullish move.
The price climbed higher and last Friday, the price reached pretty close to $1,360, which means nearly a $100 climb in a couple of weeks. The trade war escalated again in the recent weeks and the uncertainties increased massively regarding global economic growth and the politics, which hurt the sentiment, bringing more bids towards safe havens such as Gold and the JPY.
The 50 SMA has been providing support and pushing the price higher in the lat two weeks, after it caught up with the price. But this week, Gold buyers haven't made any decent attempt to push higher because of the FED meeting which is scheduled for today evening.
Markets are anticipating a dovish FED since the economic data from the US has shown considerable weakness in recent months, which would send Gold higher and probably break last year's high at $1,366. If the FED is not as dovish as the market expects, then Gold should retrace lower, but keep the uptrend in place as the uncertainties remain elevated.