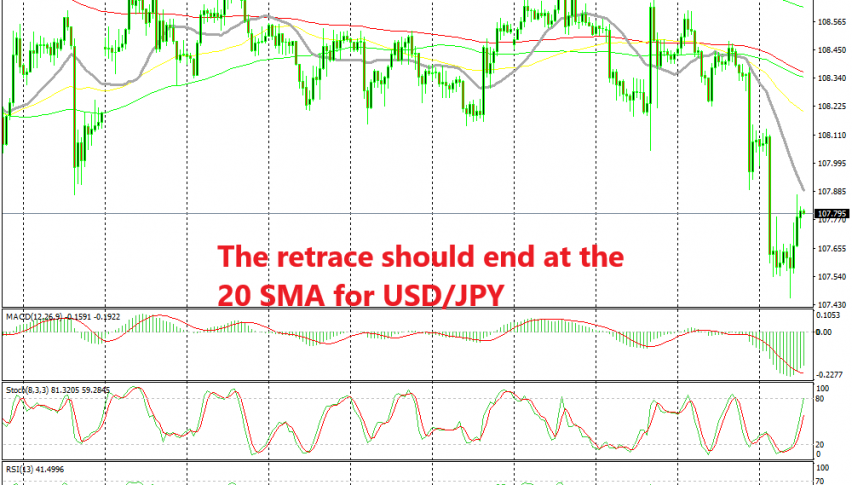 Now We Turn Even More Bearish on USD/JPY After the FED
USD/JPY turned pretty bearish at the beginning of May after the global tensions increased and the global economy accelerated the slowdown. As a result, the sentiment turned pretty negative in financial markets and safe havens such as GOLD, the CHF and the JPY turned bullish.
During this time, we have been bearish on USD/JPY as this pair lost around 300 pips during the decline last month. At the start of this month, the decline stopped and we have seen this pair retrace higher during the last three weeks, although I mentioned that the pressure remains to the downside due to the negative sentiment. You could see that from the weak retrace higher, which was worth only 90 pips in two weeks.
Now, the bearish trend has resumed again after the FED meeting yesterday. Markets were pricing in a 90% chance of a rate cut for July and today after the FED, the odds of a rate cut next month have gone to 100%. The FED leaned on the dovish side yesterday, which hurt the sentiment further.
Today's tensions in the Persian Gulf have increased the geopolitical tensions and safe havens are running higher again, with Gold breaking above last years's highs at $1,365 and USD/JPY making another bearish leg overnight. Right now, USD/JPY is retracing higher But I'm getting ready to short this pullback at the 20 SMA (grey) on the H1 chart.