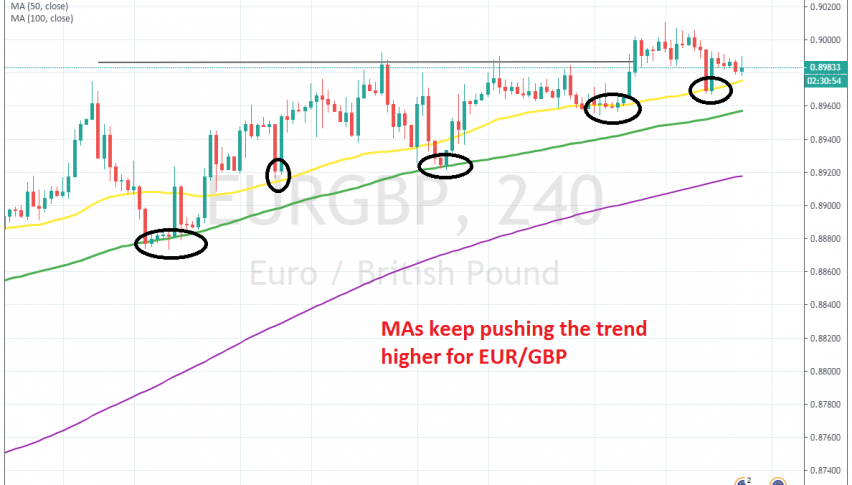 The 50 and 100 MAs Keep the Uptrend Going for EUR/GBP
EUR/GBP has been on a bullish trend since the beginning of May when it reversed below 0.85. During this time, this pair has climbed more than 500 pips. The first three weeks were really bullish and EUR/GBP closed all the daily candlesticks bullish, without any bearish candlesticks whatsoever.
Then, during June the trend slowed and the trend became more normal, where we saw retraces lower, which were followed by bullish reversals and new highs, although the buyers have been slow to make new highs. Nonetheless, the uptrend has been stretching further to the upside and those pullbacks presented us with great opportunities to go long on this pair.
The pullbacks lower have been finding support at the 50 SMA (yellow) when they were shallow and at the 100 SMA (green) when they were deeper. We opened a buy signal at the 50 SMA earlier this week which brought us some nice profit and now we are thinking of doing the same as this pair is retracing lower again.
The price is heading for the 50 SMA again now and we are following the price action to see if the sellers show signs of weakness around the 50 SMA. If yes, then we will go long at that moving average, and if not, we will wait for the pullback to continue further to the downside and then go long form the 100 SMA. That's the plan. It's not too complicated, but that's how trades should be.