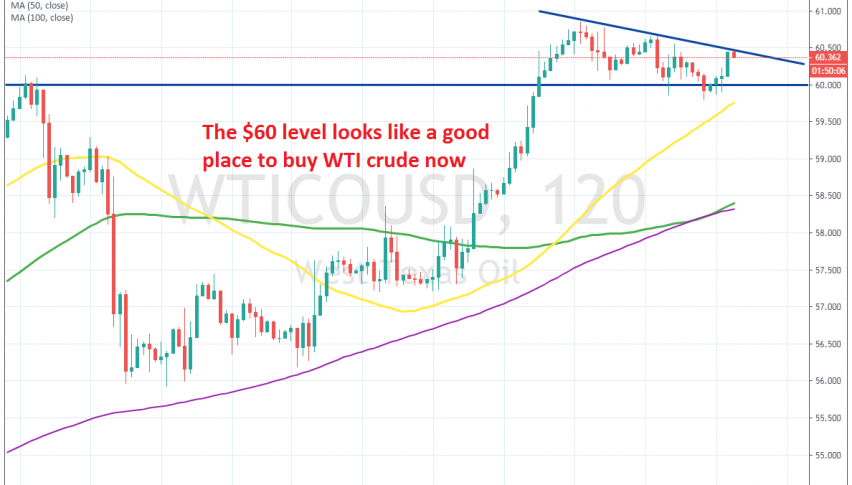 US WTI Crude Remains Bullish Above $60
Crude Oil has been pretty bearish for a couple of months after making a bearish reversal at the middle of April, which lasted for a couple of months. The price of US WTI crude fell pretty close to $50 by the middle of June, but after failing to break that big round support area, the price bounced back, helped by geopolitical tensions between US/UK and Iran. The decision by OPEC+ cartel to postpone production cuts also helped send Crude Oil higher since the mid of last month.
At the beginning of this month, WTI crude reached the other big level at $60, which provided support for some time on the way down. The buyers managed to pierce this level, but the price eventually returned down after failing to close above it, which means that this level wasn't broken.
Although, it is broken now. US Crude Oil fell close to the 200 SMA (purple) on the H2 chart and started to reverse higher as this moving average was approaching. Then came the break of the $60 level last week, which puts Crude Oil on a bullish trend. The $60 level has turned into support now and we saw a bounce off that region today.
WTI is trading above $60 at the moment, although a triangle is forming on this time-frame, but that's just a coincidence, because I don't think Oil traders are trading this triangle. To make things simpler, we should just trade the previous support level at $60, which has now turned into support. So, if WTI crude dips to $60 again, we will look to enter on the long side, hoping to catch another bounce of that big round support area. The 50 SMA (yellow) is also approaching, which will add more strength to that support level.