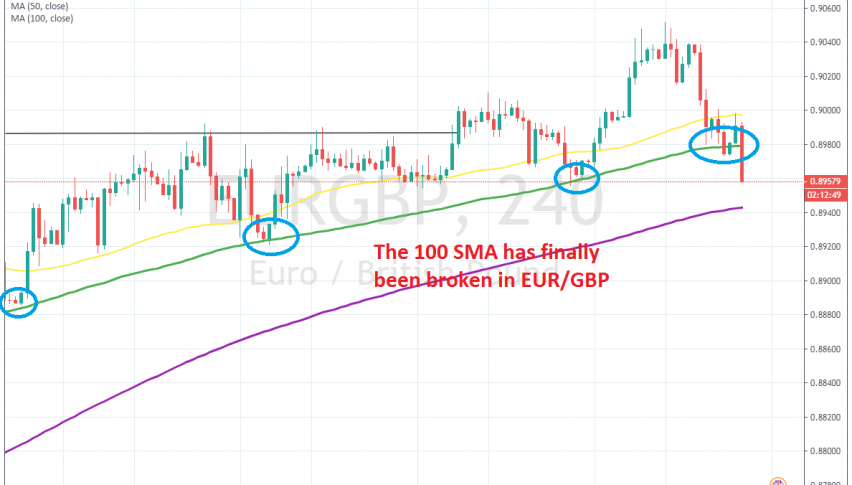 Is the Trend Changing for EUR/GBP?
EUR/GBP has been on a bullish trend for nearly three months, climbing more than 500 pips since it reversed at the beginning of May. The move has been fueled by fundamentals as the UK heads out of the EU without a Brexit deal, as everything points to that, which has hurt the GBP during these last few months.
The 50 SMA (yellow) was providing support in the first few weeks on the H4 chart when the trend was strong, then the 100 SMA (green) took its place, providing support several times since the middle of June. So, these two moving averages have been keeping the bullish trend going for this pair and we have had quite a few winning signals going long from these moving averages during pullbacks lower.
In the last few days, we have seen another pullback lower and yesterday we decided to go long on EUR/GBP again when the price was close to the 100 SMA. The price bounced off this moving average yesterday, but it found resistance at the 50 SMA. The 50 SMA has never turned into resistance as the price has bounced off the 100 SMA previously as you can see form the chart above, which was a sign that the trend might be in danger. This moving average provided resistance again today and the price finally broke the 100 SMA, which is another strong signal that the trend might be in jeopardy.
The 20 SMA has been pierced today
Switching to the daily time-frame, we can see that the 20 SMA (grey) has been providing support for EUR/GBP in the last two months. But the price has now broken below this moving average now, which is another strong signal that the trend might be shifting, or at least we might see a decent pullback lower before it resumes again, if it does. The price might pull back up and close above the 20 SMA, which would be a lifeline for buyers, but we have to wait until the end of the day to see in which direction this pair will head next week.