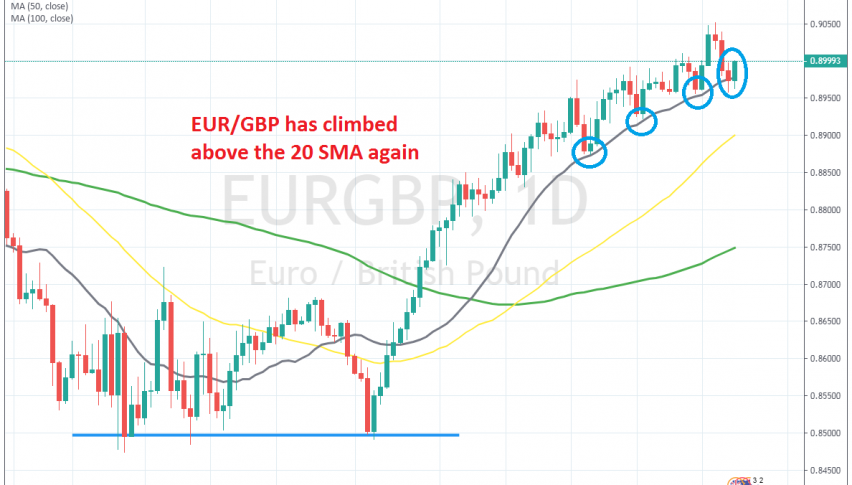 EUR/GBP Turns Bullish Again and Moves Above the 20 Daily SMA
EUR/GBP made a bullish reversal at the beginning of May below the 0.85 level where it had reversed higher a few times before, which suggests that the area below 0.85 is a support zone for this pair. A strong bullish trend started back then and this pair has climbed more than 550 pips from the bottom to the top during this time.
The trend was really strong in June but it slowed down this month. We have had quite a few buy signals in this pair during this climb and have used the H4 chart to pick our trades since the 50 SMA (yellow) was providing support during May. Meanwhile in June when the trend slowed, the 100 SMA (green) caught up and kept the uptrend going.
Although, let's take a look at the daily chart now. We see that the 20 SMA (grey) wasn't able to catch up with the price during May but it caught up in June and it has provided support for this pair three times during retraces lower. Last week we saw another pullback for this pair, which turned out to be a meaningful retrace, as the price declined around 100 pips.
We opened another buy signal at the 20 SMA, but the price broke below that moving average, which scared us for a moment. But, we are seeing a reversal today as the GBP continues to slip lower while the Euro is holding steady. So, now we are in profit with our trade and the price is back above the 20 SMA. We are holding on to our trade since the buyers are back in control.