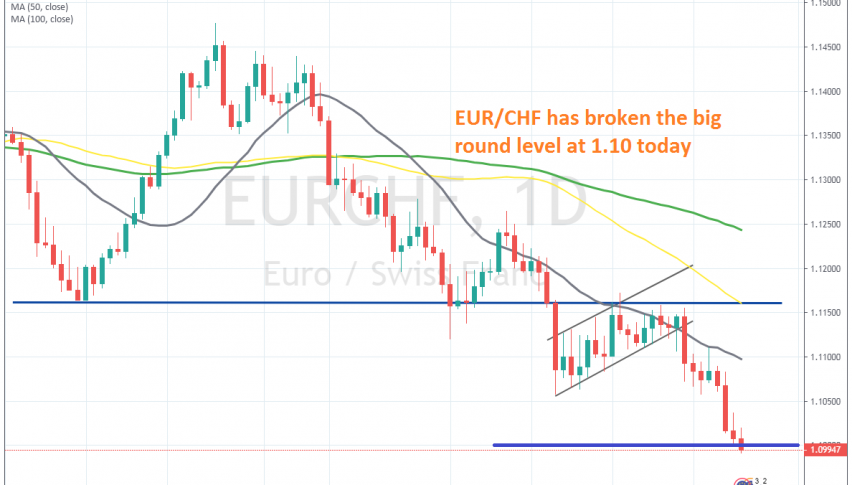 The SNB Should be on Their Toes as EUR/CHF Falls Below 1.10
EUR/CHF turned bearish towards the end of April as safe havens started to attract strong bids back then, after the trade war reignited again. The global economy weakened considerably in Q2, which turned the sentiment negative in financial markets and safe havens are known to benefit during such periods, hence the bearish trend in EUR/CHF.
The decline stalled at 1.1150-60 for some time, which had been the low in March, but it didn't turn into support for this pair and the sellers continued to push lower after a small retrace higher. The decline stalled again at 1.1050s towards the end of July and we saw another retrace higher in the following weeks as the sentiment improved a bit.
EUR/CHF traded inside an ascending triangle for a few weeks after the Swiss National Bank SNB threatened with intervention, but the sellers returned and in the last two weeks the bearish trend has resumed again. There was hope that 1.10 would hold at least in the first attempts but today sellers pushed below that big round level, so no help for the SNB.
Now the SNB will likely pop up at any time, making threats of intervention and they might actually intervene this time around. So, if you are short on this pair, watch your position and better lock some of the profit in, with a stop above 1.10, because we might see a jump any time.