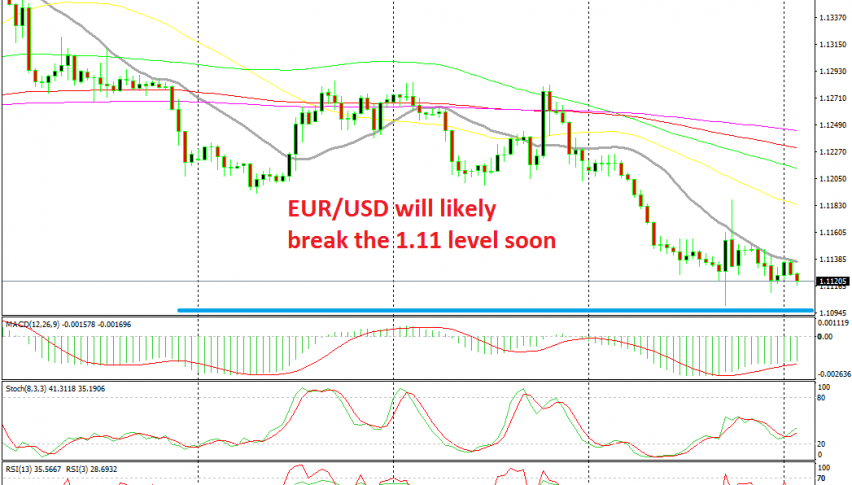 EUR/USD Should Break the Support at 1.11 Soon As the 20 SMA Keeps Pushing It Down
EUR/USD has been on a long tern downtrend which has lasted more than a year. The trend used to be really strong during the first few months, but the pace slowed since summer last year and sellers were pretty slow to make new lows. Although, they did push lower step by step, so the trend still remains bearish.
In the last few months though, a bottom has been put in place for this pair at 1.11. The sellers pushed lower to this level by the end of April, but gave up at the area surrounding this level. They have tried a few more times to break below this level, but they haven't been able to, so this level has formed a strong support zone around it.
So, this has been the ultimate support level for this pair. But it will likely get broken soon. The price is coming back to this level time after time, so it will have to go at some point. The 20 SMA (grey) is pushing this pair down on the H4 chart, as it provided resistance last week, and now EUR/USD is headed towards this area again. The FED meeting might shake things up a bit, and we might even see another bounce higher if the FED sounds too dovish.
Although, the ECB is entering a very dovish path and they will likely announce another round of monetary stimulus package in the September meeting, which means that the Euro will remain bearish for a long time. So, this level will be broken even if the FED turns more dovish. Otherwise, if the FED doesn't sound too dovish, the markets will take that as a bullish sign for the USD and the 1.11 level in EUR/USD will be broken right then.
USD/CAD continues to slide lower, although it stalled to the bottom of the range earlier, after the dive on the 25 bps hike by the BOC
17 hours ago