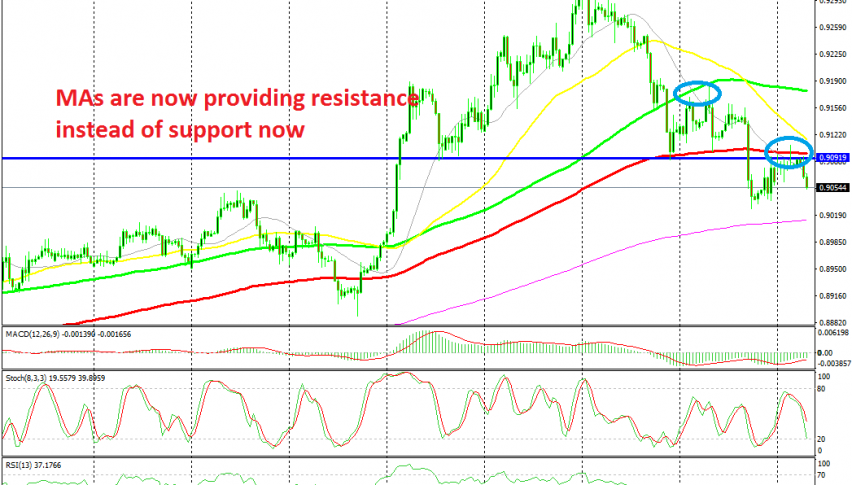 The Trend is Changing in EUR/GBP as MAs Turn From Support to Resistance
EUR/GBP has been on a strong bullish trend since it made a reversal higher at the beginning of May. The trend was very strong in May but it slowed down in June and in July. Although, towards the end of last month the trend picked up pace as GBP crashed lower, with GBP/USD falling from 1.25 to 1.20 lows.
During this time, moving averages (MAs) were providing support for this pair on the H4 chart, pushing the price higher. When the trend was strong, the smaller period MAs such as the 20 SMA (grey) and the 50 SMA (yellow). When the trend slowed, the larger MAs caught up and provided support. So, as long as these moving averages were providing support, the trend was bullish.
But the price reversed in the second week of this month and moving averages have been breaking one after the other. Not only that, but these MAs have also been turning into resistance for EUR/GBP. This shows that the trend is shifting from bullish to bearish for this pair. The 100 simple MA (green) turned into resistance first last week and this week it seems like the 100 smooth MA (red) has turned into resistance.
So, the trend is shifting as EUR/USD resumes the bearish trend while GBP/USD makes a bullish reversal which is due after the big decline in the previous weeks. Now these moving averages should be seen as good opportunities to go short on this pair. We hesitated to open a sell signal as EUR/GBP was retracing higher yesterday which was a mistake since the downtrend has resumed again today, but there will be other opportunities for sure.