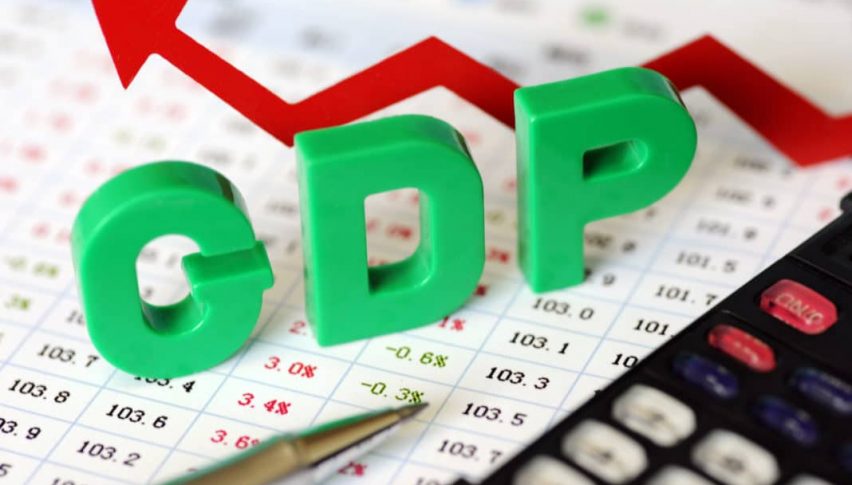 Daily Brief, Aug 29: Economic Events Outlook – US Prelim GDP in Focus
Posted Thursday, August 29, 2019 by
Arslan Butt
• 2 min read
What's up, fellas.
So far, the INSEE has already released the French Consumer Spending and French Prelim GDP q/q figures for the month of July. Both economic events are in the favor of single currency Euro, which is why we are seeing a slight bullish movement in the Fiber.
EUR –
French Consumer Spending m/m
As per INSEE report, household consumption expenditure on goods rebounded in volume (+0.4% after –0.2%) in July 2019. This increase was mainly due to the consumption of manufactured goods (+0.6%). Food consumption recovered a little in July.
In July, manufactured good consumption increased for the third consecutive month (+0.6%), driven in particular by durable good purchases (+1.6%) and despite the decline in clothing consumption (–1.2%).
EUR – French Prelim GDP
The French GDP figures soared by 0.3% in Q4 2018. In terms of terms, the GDP grew at the same pace as in Q3: +0.3%.
On average over the year, GDP growth slowed down in 2018: +1.5% after +2.3% in 2017.
Household consumption expenditures decelerated (0.0% after +0.4%), likewise total gross fixed capital formation slowed down (GFCF: +0.2% after +1.0%).
What's Next on Economic Calendar?
EUR –
German Prelim CPI m/m
German CPI is considered one of the high impact economic events for the Euro currency as Germany is considered the biggest business hub. For all the newbies, the consumer prices account for a majority of overall inflation. Inflation is important to currency valuation because rising prices lead the central bank to raise interest rates out of respect for their inflation containment mandate.
Last month, June's inflation figure surged dramatically by 0.5%, beating the forecast of 0.3%. But today, economists have expected a drop of around -0.1% in inflation. It may add bearish pressure on the Euro today.
CAD – Current Account – 12:30 GMT
Fellas, the current account shows a difference in value between imported and exported goods, services, investment income, and current transfers during the previous quarter
The Statistics Canada will be releasing the figure later today with a forecast of -9.9B vs. -17.3B previously. This month's figure seems to have improved as current account deficit is likely to shrink when compared with the previous month. This may keep the Canadian dollar supported today, but at the same time, the strengthening US dollar may also weigh on the USD/CAD.
USD – Prelim GDP q/q – 12:30 GMT
The Bureau of Economic Analysis will be releasing US Prelim GDP figures. According to the initial release, the US economy has outperformed its rivals in the second quarter by expanding at a yearly rate of 2.1%.
As you see in the chart, the US economy grew by an annualized rate of 2.1% in the second quarter of 2019, surpassing economists' forecasts of 1.8% and following a 3.1% growth in the previous three-month period, as the advance estimate showed.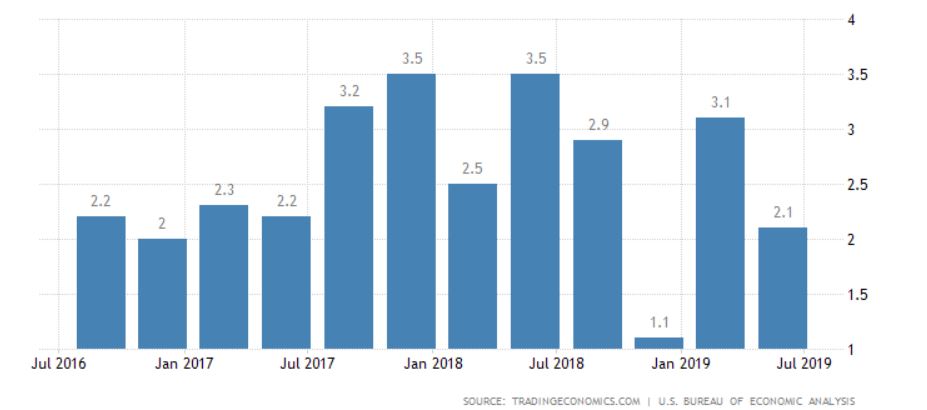 Household consumption and government spending grew at faster rates, while a drop in exports and a poorer inventory build had a negative impact on growth. In the United States, the GDP Growth Rate averaged 3.21% from 1947 until 2019, touching an all-time high of 16.70% in the first quarter of 1950 and a record low of -10% in the first quarter of 1958.
Good luck, traders and stay tuned to FX Leaders Economic Calendar for live market updates.