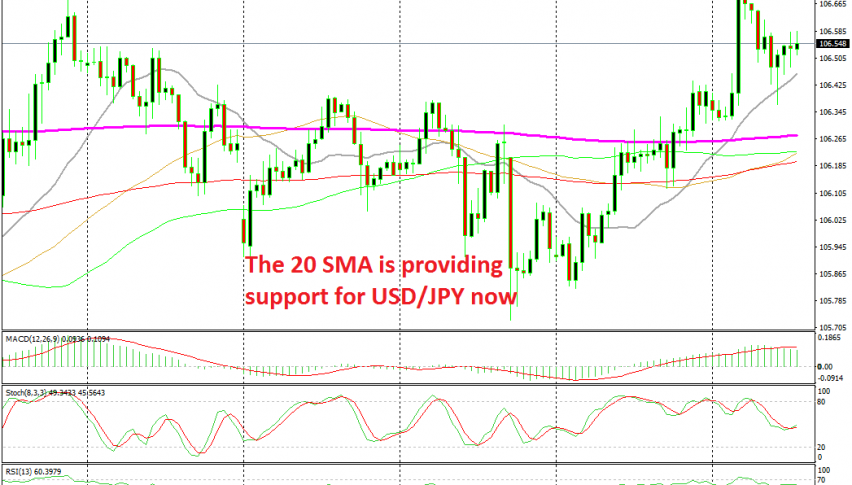 Changing Sides in USD/JPY
If you have followed our forex signals, you must have noticed that we have opened quite a few sell signals in USD/JPY this year, compared to buy signals. That's because this pair has been on a downtrend most of the time. The sentiment has been negative this year in financial markets and safe haven assets such as the JPY and GOLD have benefited from it.
But, in the last two days the short term trend has shifted from bearish to bullish in USD/JPY. I don't expect this to last too long, but that's how it is right now. The sentiment has improved in the last few sessions for a few reasons. The officials in Hong Kong are falling back to protesters, Brexit might be extended again which means that a no-deal Brexit scenario is less probable at the moment, and China and the US have been speaking over the phone to set up a meeting in October.
That's still too little for the sentiment to turn positive, but I assume markets have been trading the negative sentiment for too long, so they just want a reason to be positive for a while. As a result, risk assets such as stock markets and commodity currencies have made the most of this, while safe havens are retreating.
USD/JPY has climbed around 100 pips in the last few trading sessions, so we decided to shift from bearish to bullish on this pair. During the Asian session this pair made another leg higher but it retraced lower and we decided to buy the pullback. The price founded support at the 20 SMA (grey) on the H1 chart where it formed a hammer candlestick above that moving average, which is a reversing signal after the retrace lower.
We decided to buy at the 20 SMA, so now we are long on this pair and our signal is already in profit. But, we won't stay long on USD/JPY for too much time once this signal is closed.