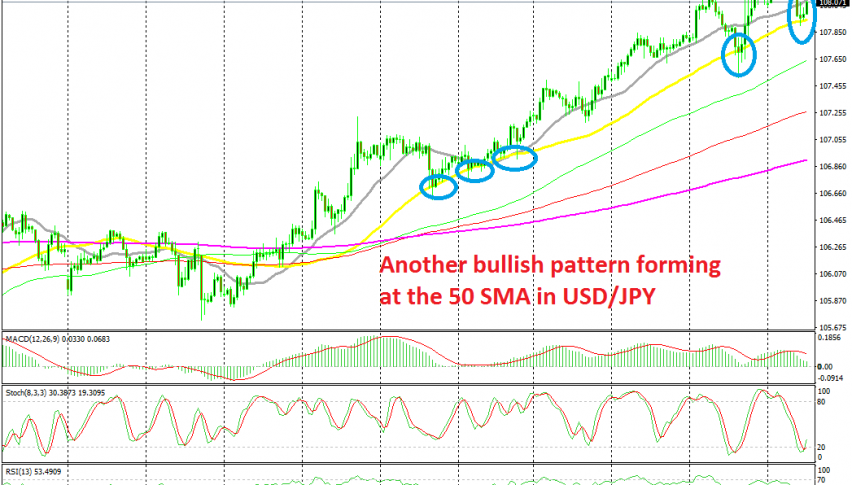 Another Pullback to the 50 SMA in USD/JPY, Another Buying Opportunity for Us
USD/JPY has offered us quite a few trading opportunities in the last two weeks. This pair turned bullish by the middle of last week as the sentiment turned positive in financial markets. China and the US softened their tones and we have heard positive comments from both sides since then.
These comments have kept the sentiment positive and the bullish trend going for USD/JPY. This pair has climbed nearly 300 pips since Tuesday last week and moving averages have been doing a good job in providing support on pullbacks and pushing the price higher.
When the trend strengthened, the 20 SMA (grey) has been the one to push this pair higher, and when the pullbacks have been deeper, the 50 SMA (yellow) has taken its place. Yesterday we opened a buy signal in this pair when it formed a bullish reversing pattern below the 20 SMA.
But, the sellers pushed lower and we reached the 50 SMA when anothwer bullish reversing pattern formed. The price formed a hammer candlestick at the 50 SMA, which is a reversing signal and then the bullish trend resumed. A similar pattern is forming today; the price pulled back to the 50 SMA on the H1 chart during the Asian session and it formed two small doji candlesticks.
Those again are reversing signals. the 50 SMA was holding as support, while stochastic was oversold, which meant that the pullback is complete. We decided to take another shot at the upside, so we are long again in USD/JPY today.