USD/CAD Holds Above Fibonacci Support
The USD/CAD has tightened considerably from early-September form. FED rate cuts, hyperactive WTI crude oil, and mixed Canadian economic metrics have driven uncertainty toward the Loonie. Over the past 24 hours, a bounce from Fibonacci support has been the result.
During the U.S. premarket hours, Statistics Canada released its Retail Sales report for July. The figure came in better than expected at 0.4%. This number was a significant uptick from June, which posted a -0.1%. Following the report, traders took a bearish stance toward the USD/CAD, even though WTI crude oil was giving back early gains.
At press time (12:15 PM EST), rates are back in the neighborhood of 1.3270, well above daily downside Fibonacci support.
USD/CAD Bounces From Daily 38% Fibonacci Retracement
In a Live Market Update from Thursday, I issued a buy recommendation from just above the daily 38% Current Wave Retracement (1.3243). The trade turned out to be a success, racking a quick 25 pips profit.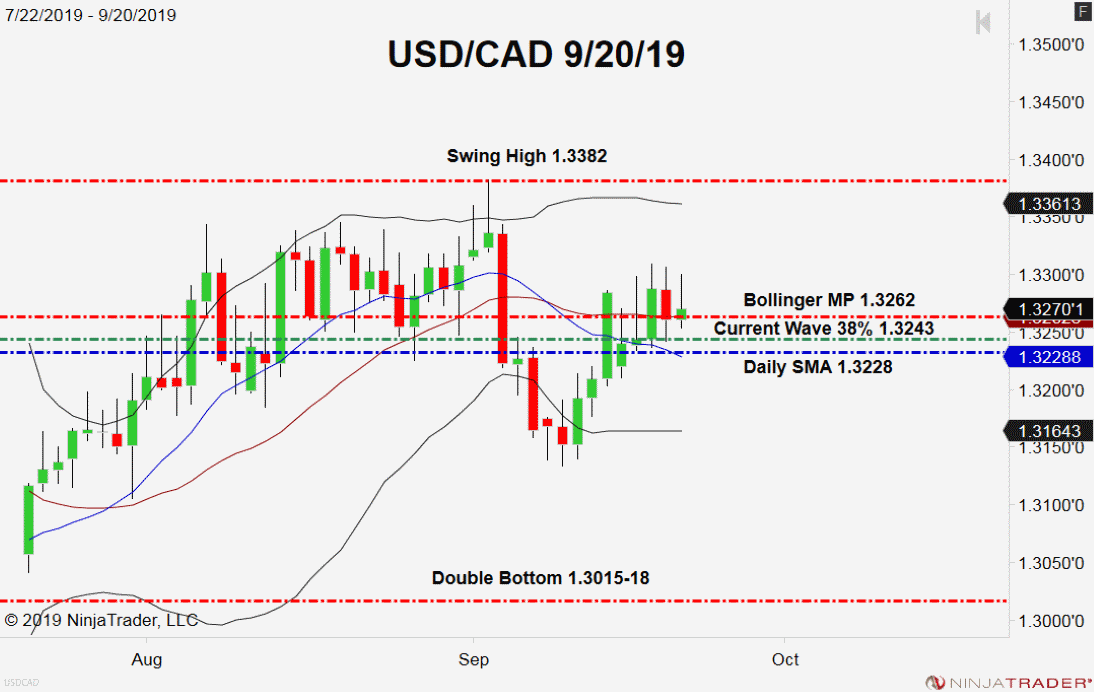 Upon reviewing yesterday's update, I mistakenly referenced the 38% Fibonacci level as being the 32% retracement level. While the price point was accurate at 1.3243, the label was incorrect. My apologies for any confusion, but that is how it goes in the live market ― when mistakes are made, we note the error and move on!
Overview: Going into the weekend break, it is a challenge to predict a direction for the USD/CAD. The two-week trend remains bullish and rates are firmly above daily support. The area around the 38% Fibonacci Retracement (1.3243) is worth watching in this market. As long as bids are hitting the queue north of this level, a long side bias is appropriate.