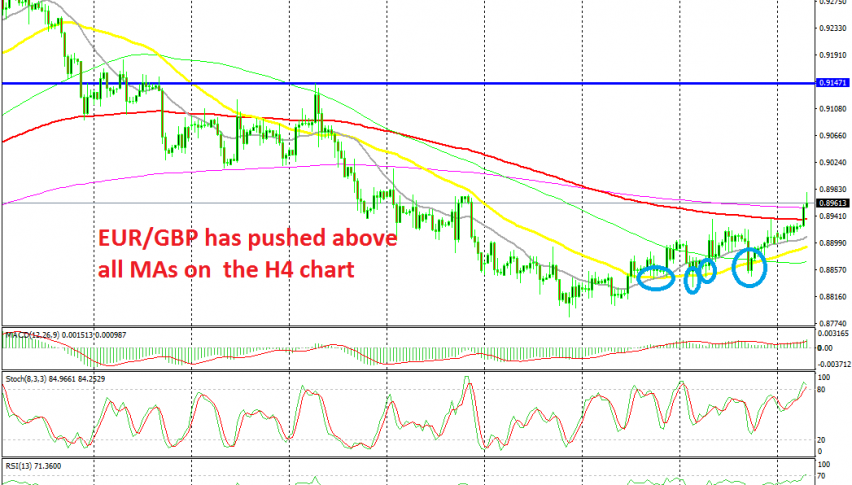 The Trend Changes for EUR/GBP
EUR/GBP has been on a bearish trend since the middle of August when it reversed lower from 0.9320s. The GBP turned bullish back then on hopes that the new Prime Minister Boris Johnson would pull off a Brexit deal somehow, which he still might do by the way. The Euro, on the other hand, turned more bearish as the European Central Bank turned increasingly dovish.
As a result, this pair lost around 550 pips until the last week of September. But in the last week of September, EUR/GBP reversed higher and pushed above the 50 SMA (yellow). That moving average has been a strong resistance indicator when the trend was bearish, so the break of the 50 SMA was a sign that sellers were giving up and buyers were taking things in their hands.
The 50 SMA turned immediately into support after being broken to the upside,which was yet another signal that the trend had changed. The sellers tried to push back below the 50 SMA several times since then, but they failed, despite piercing the moving average a few times. Then, towards the end of last week, the trend picked up pace further and the 20 SMA (grey) turned into support and continued to do that job this week as well.
The 100 SMA (red) was providing resistance to the top side, but the buyers finally pushed above it and above the 200 SMA (purple) today as the GBP tumbles lower, so buyers are in full control now.
Now it's a bit late to go long, so I will wait for a retrace lower, probably to the 50 SMA or even 20 SMA in order to go long. It will take some time until that happens, probably a few sessions, so hang on until then guys.