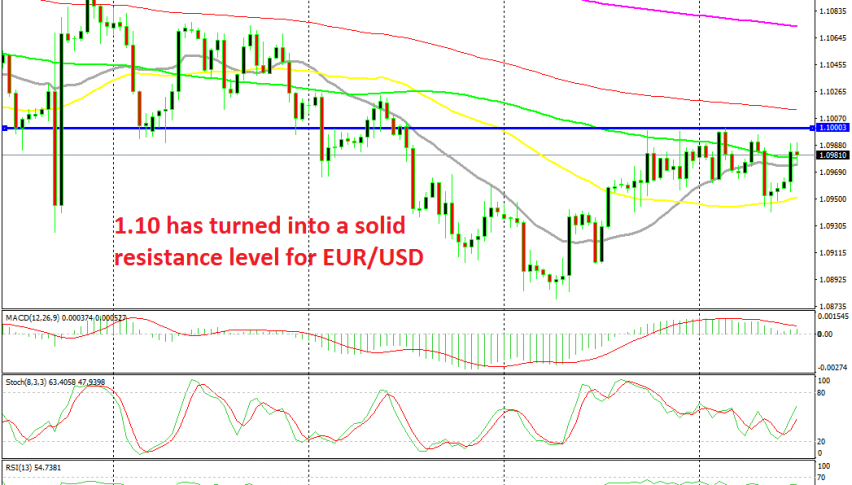 Playing the Resistance at 1.10 in EUR/USD as Long as it Lasts
EUR/USD turned bullish last week as the USD turned bearish on the ISM manufacturing and non-manufacturing reports which weakened considerably. ISM manufacturing fell deeper into contraction and USD buyers panicked, assuming that this sector is headed towards deep recession, like in Germany and the Eurozone.
But, EUR/USD couldn't break above the big round level at 1.10 last week. The high on my chart is 1.10, exactly to the pip, which was put in place on Monday. So, as shown in the H1 chart above, EUR/USD has been trading below this level for about a week.
Now, it seems like this big round level has turned into a strong support zone. We went short just below 1.10 yesterday and booked profit as the pair reversed lower. But the 50 SMA (yellow) provided support yesterday and the price reversed back up after forming a hammer candlestick on the H4 chart above the 50 SMA.
Today, the price got pretty close to 1.10 again, but I decided to take this opportunity and open another sell signal up there. Although, I didn't pull the trigger right away; I followed the price action for a couple of hours and after confirming that buyers were really exhausted and unable to push any higher I decided to sell EUR/USD. Now the price is reversing down, so we are on the right side of the trade.