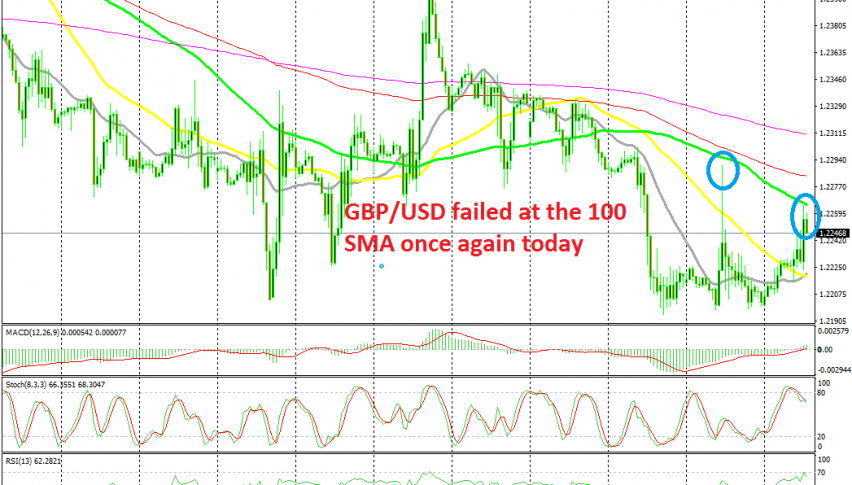 GBP/USD Remains Between 2 MAs After Carney's Comments
GBP/USD has turned bearish in the last three weeks, as the odds of a Brexit deal declined once again. Yesterday we heard rumours that the EU might offer some concession to the UK and accept a backstop to the Irish border. But, the DUP Party of Northern Ireland refused the offer and the other actors in this movie backed off as well.
GBP/USD surged nearly 100 pips higher on those rumours, but reversed down and gave back the gains as hopes for a deal evaporated once again. Today, GBP/USD climbed higher again as the USD weakened on improving sentiment, as we head into the negotiations between US and China.
But, the 100 SMA (green) provided resistance and the price is reversing back down now. The Bank of England Governor Mark Carney appeared just a while ago, commenting on the economic reports which were released this morning, that we covered in our economic calendar section. Here are some of Carney's comments:
Today's data is consistent with picture of soft underlying growth
Says that UK data is fairly volatile at the moment
BOE is ready for any Brexit contingency
There is plenty of time for the government to choose a new BOE governor
GBP remains more volatile than usual because of wide range of Brexit outcomes
Earlier this morning, the UK GDP report showed a 0.1% contraction for August. manufacturing production for the same month shrank by 0.7%, while industrial production declined by 0.6%. So, the economy is pretty weak indeed, but at least, construction posted some decent gains.