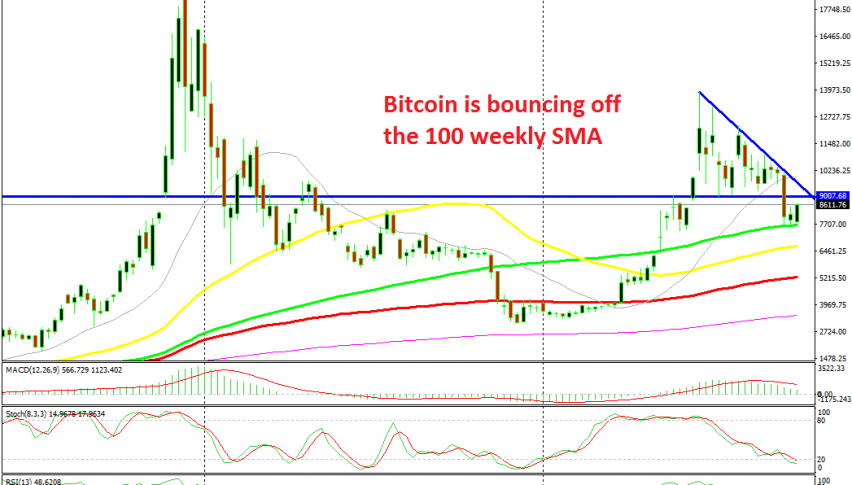 Is This the Time to Buy Bitcoin as it Finds Support at the 100 SMA?
BITCOIN has had a great year this year, after the horrible year in 2018. Although, this year hasn't been as stellar as 2018 when Bitcoin surged from $1,000 to nearly $20,000. But, it's been a good year nonetheless, as the price climbed from $3,000 in Q1 to $13,780 on my platform.
Although, the year is not over yet, so there's still time for Bitcoin to reach $20,000. But not before retracing lower,which it has already done. Bitcoin was making lower highs since the end of June when it topped out below $14,000. But, it wasn't making new lows.
The lows were ending around the $9,000 level, which means that the area around that level had turned into a support zone. So, I connected the highs as you see from the daily chart above and the picture formed a triangle. The triangle was getting narrower as the price headed for the tip of the triangle.
According to this chart setup and the forex textbook, the price should break on either direction as it approached the tip of the triangle. The breakout took place last moth and Bitcoin made a new low at around $7,700. That's where we find the 100 SMA (green) on the weekly chart.
So, it's this moving average which has been providing support for Bitcoin and holding it above. Now, the pullback lower seems complete. The stochastic indicator is oversold which means that the pullback is complete indeed. This might be a good opportunity to buy Bitcoin and we might do so. If this year's bullish trend won't resume, it will at least bounce until the previous support at $9,000. The bounce is already underway by the way.