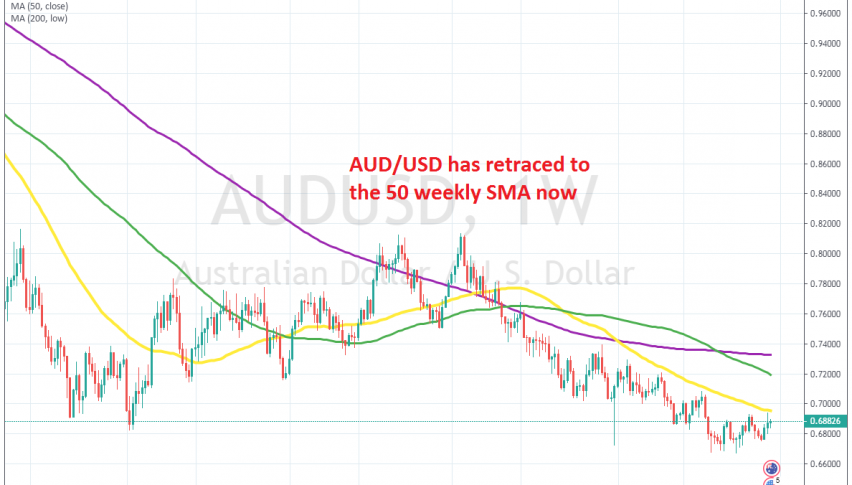 AUD/USD Likely to Turn Bearish Soon According to History, as the 50 Weekly SMA Approaches
AUD/USD turned bearish two years ago when the trade tensions started, after Donald Trump took office and has been moving lower since then, as trade tensions escalated. Tensions turned into a trade war between US and China, primarily, which reached the peak in September this year.
In September, the rhetoric became less aggressive and the sentiment improved in financial markets, hence the bullish reversal at the end of that month. During the downtrend,the 50 SMA (yellow) has been doing a good job in scaring the buyers away, so the price has reversed whenever it has approached that moving average.
AUD/USD approached to the 50 SMA for the last time in October, but in November we saw a bearish reversal. But, US and China reached a trade agreement last week and the price has turned higher again, hence the last 2 bullish candlesticks.
Now, we are pretty close to the 50 weekly SMA once again and according to the history, we should see another bearish reversal. That might actually come true, because the Phase One deal is just an agricultural agreement, which actually works against the AUD, since it would mean that China will purchase less agricultural products from Australia.
Traders are realizing that, so despite the more optimistic sentiment in markets, which shouldn't last long for the reason that the main issues that the US has with China, are far from being resolved. So, fundamentals and technicals are converging for a bearish reversal in this pair on larger time-frame charts.