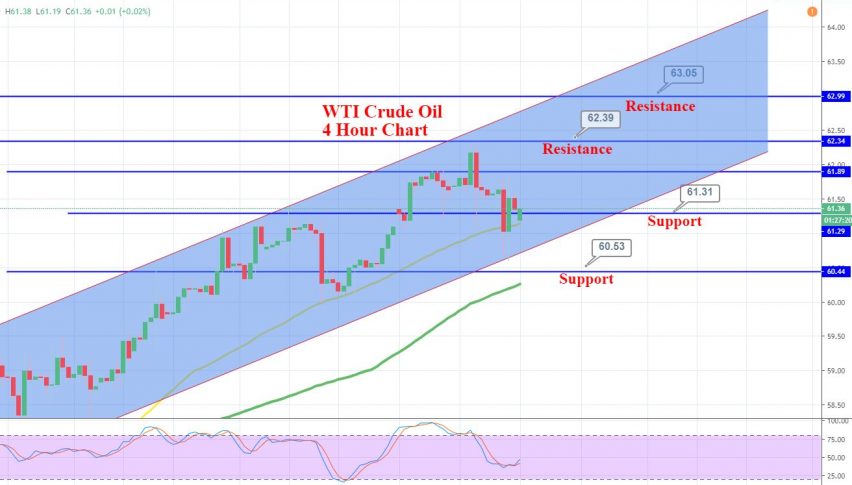 WTI Rose on Sino-US Optimism & Middle East Supply Tensions
Posted Thursday, January 2, 2020 by
Arslan Butt
• 2 min read
WTI crude oil prices are flashing green mainly due to optimism surrounding the Sino-US trade relations and tension in the Middle East increased worries about supply. The US West Texas Intermediate (WTI) crude (CLc1) was up 18 cents, or 0.3%, at $61.24 per barrel. WTI crude oil markets were closed on Wednesday due to New Year's Day.
WTI crude oil ended higher in 2019, represented their most significant annual gains since 2016, boosted at the end of the year due to de-escalated trade dispute between the United States and China – the world's two largest economies, and a deeper output cut promised by the Organization of Petroleum Exporting Countries (OPEC) and its allies.
WTI crude oil continues to be supported by the trade truce and the uptick in political unrest in Iraq. In addition, the US military launched airstrikes against Iran-backed Katib Hezbollah militia group during the weekend. Angry at the airstrikes, protesters attacked the US Embassy in Baghdad on Wednesday; eventually, they reversed after the United States deployed extra troops.
According to forecast, WTI is expected to average $57.70 a barrel, up from December's estimate of $57.30, because of the OPEC-led supply cuts and the expectations of a US-China trade deal success as the US President Donald Trump said on Tuesday that the Sino-US Phase 1 trade deal would be signed on January 15 at the White House.
A drop in US crude outputs last week also supported the prices of crude oil. US oil stockpiles declined by 7.8 million barrels in the week ended December 27, against expectations for a decrease of 3.2 million barrels, according to data from the American Petroleum Institute (API) released on Tuesday.
January 2020 also signals the start of the deeper output cuts by OPEC and its partners, including Russia. OPEC and its allies have agreed to cut a further of 500,000 barrels per day (bpd) from January 1, on top of their previous cut of 1.2 million bpd that started on January 1 a year ago.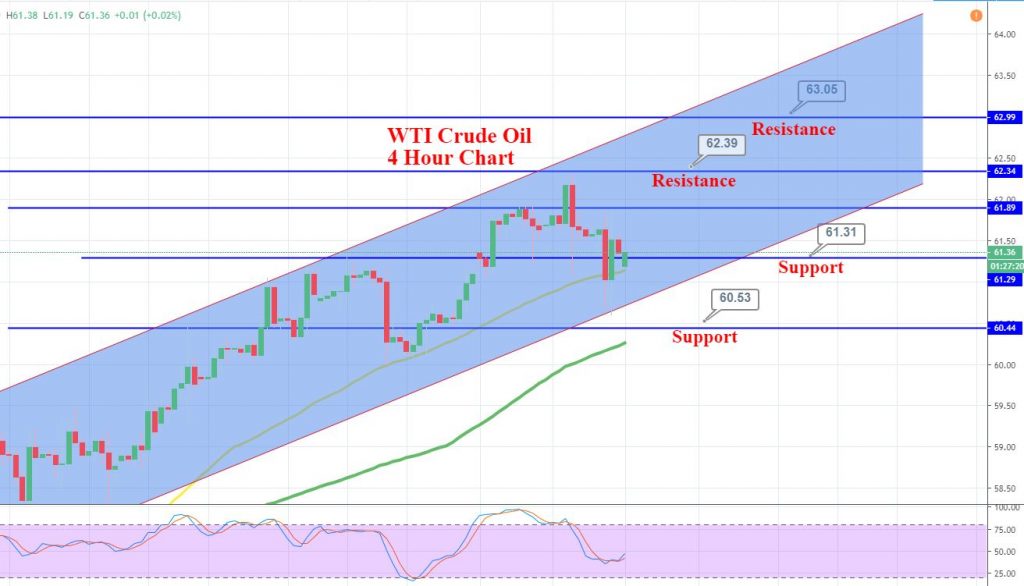 Daily Support and Resistance
S3 58.69
S2 59.9
S1 60.49
Pivot Point 61.12
R1 61.71
R2 62.34
R3 63.56
Technically, WTI crude oil prices are retracing down despite bullish fundamentals around the globe. The black crack is likely to find an immediate support around 60.75. The 50 periods EMA is also likely to support the black crack around 61 today. The RSI and Stochastics are neutral, holding around 50, suggesting neutral bias among traders. I will consider taking a buying position above 61.12 and bearish positions below the same level today. Good luck!