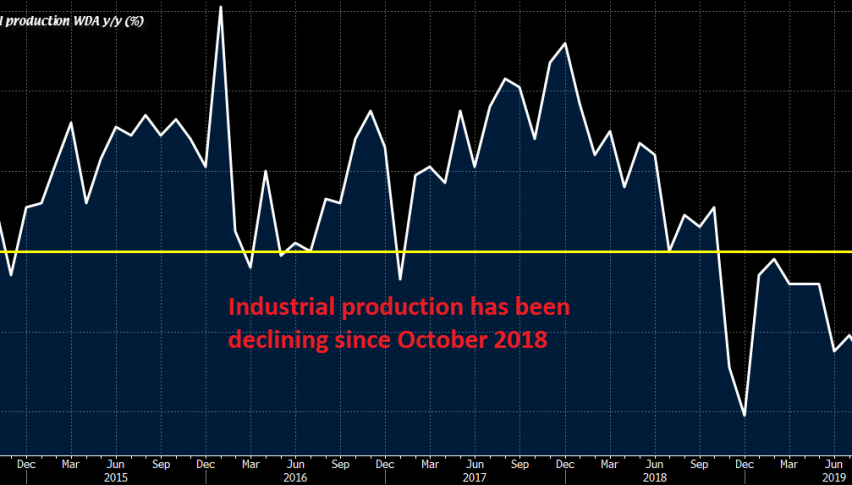 Industrial Production Posts Another Big Decline in Europe for December
Posted Wednesday, February 12, 2020 by
Skerdian Meta
• 1 min read
The economy of the Eurozone weakened considerably during last year, with manufacturing and industrial production falling in deep recession. The European Central Bank turned pretty dovish,
cutting deposit
rates to -0.50% and adding another
QE programme
.
In the last few months of 2019 we have seen some signs of stabilization, with inflation stabilizing around 1.3%, from 0.7% previously, and manufacturing improving slightly. But, the weakness might resume again, after we saw CPI inflation cool off once more last month, while today we see that industrial production has posted another big decline for December. Below is the report:
Eurozone December industrial production -2.1% vs -2.0% m/m expected
Prior +0.2%; revised to 0.0%
Industrial production WDA -4.1% vs -2.5% y/y expected
Prior -1.5%; revised to -1.7%
Industrial output tumbled in the month of December, but that is to be expected after we saw the dreadful German reading last week here. In any case, this just reaffirms the sluggish factory activity in the region towards the end of last year. So, no rest for the wicked, right? Add coronavirus to the equation and I assume the global and the Eurozone economy will resume the slowdown again in the coming months.
Risk assets tumbled lower this week, as bank problems escalate, although there was a slight improvement toward the end of the week
2 days ago