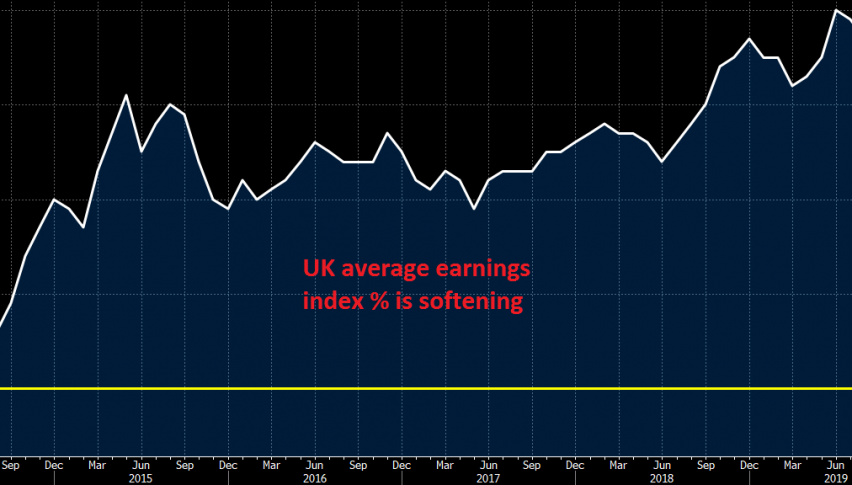 GBP/USD Jumps Higher Despite the Cool Off in Earnings
The UK economy has been weakening in the last year, following the rest of the world in a downwards economic spiral, as the trade war between US and China escalated. But, average earnings have been keeping up pretty well, despite the economic slowdown. Although, they are showing signs of weakness as today:
UK December average weekly earnings +2.9% vs +3.0% 3m/y expected
Prior +3.2%
Average weekly earnings (ex bonus) +3.2% vs +3.3% 3m/y expected
Prior +3.4%
ILO unemployment rate 3.8% vs 3.8% expected
Prior 3.8%
Employment change 180k vs 148k expected
Prior 208k
January jobless claims change 5.5k
Prior 14.9k; revised to 2.6k
January claimant count rate 3.4%
Prior 3.5%; revised to 3.4%
A slight miss in wages data, but the unemployment rate continues to reaffirm that labour market conditions remain tight in the UK economy. The GBP should not have seen much reaction in the aftermath of the data here as there are bigger fish to fry in the coming days. But, GBP/USD jumped around 60 pips higher nonetheless.
Looking at the details, the employment rate rose to a record high of 76.5% following the +180k change in employment. Meanwhile, in real terms, wages (ex bonus) was at +1.4% in the three months to December – the weakest since April 2019.