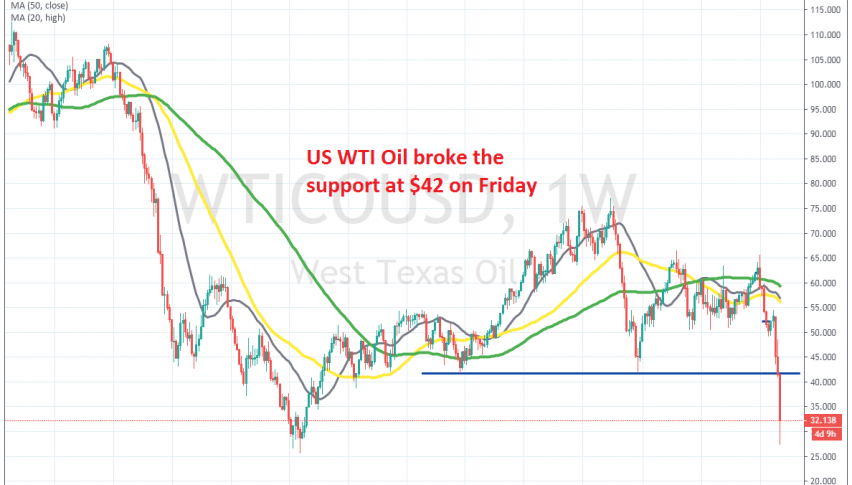 Crude Oil made a massive bearish reversal in the second week of January, as tensions between US and Iran decreased and the spike in Crude Oil ended. Coronavirus exploded in China during January, after being hidden for more than a month and the sentiment turned massively bearish for risk assets such as Crude Oil. But hey, it's China.
As a result, WTI Crude Oil lost around $24 in about two months, until Friday that is. We saw a retrace higher in the first half of February, as the virus was being contained mainly in China. But, the virus jumped to Italy and Crude Oil resumed the bearish trend, after forming an upside-down candlestick.
The price moved clearly below the $50 level and after a retrace higher early this week, as OPEC was planning to cut the output ba a massive 1.5 million barrels/day, the downtrend resumed. OPEC failed to reach an agreement last week, as Russia didn't agree, so the bearish move continues, and now Crude Oil is heading for 2016 lows at $24 and probably below, if the situation worsens.
So, we will try to sell pullbacks higher on smaller time-frames. On Friday evening WTI crude dived around $15 lower, on fears that coronavirus could turn into a pandemic over the weekend. The support at $42 was broken, so now there's no technical support until $24.