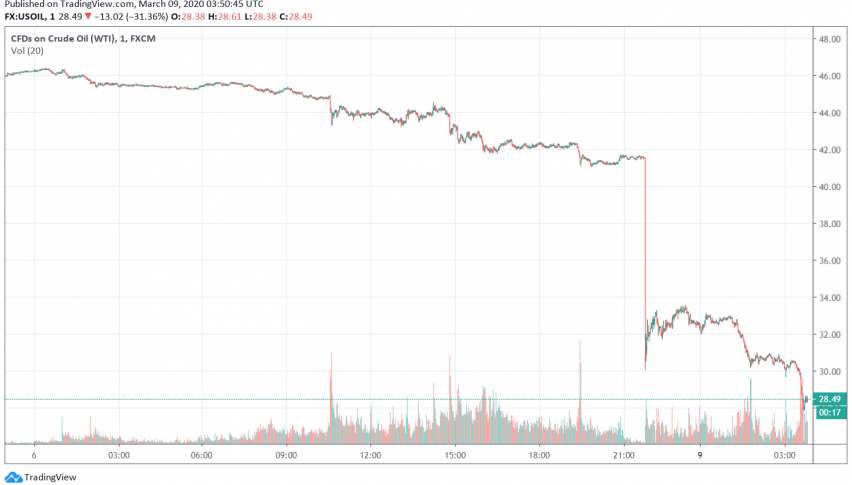 WTI Crude Oil Prices Drop by More Than 25% After Saudi Plans Hike in Crude Production
Posted Monday, March 9, 2020 by
Arslan Butt
• 1 min read
WTI crude oil prices have started the new week on an extremely bearish note, plunging more than 25% lower after Saudi Arabia confirmed its plans to increase oil production starting next month despite the weakness in demand driven by the coronavirus outbreak. At the time of writing WTI crude oil is trading at around $28.49 per barrel.
This is the worst single day decline seen in US oil prices since the Gulf War of 1991. The crash in crude oil prices has also caused a sudden decline in the value of commodity currencies and driven safe haven currencies like the Japanese yen higher.
Over the past few trading sessions, crude oil prices enjoyed some support over expectations OPEC and its allies would curb crude production further to balance the decline in demand in the wake of the outbreak. However, after Russia declined to provide support to this plan, oil prices received a greater shock over the weekend when Saudi Aramco announced its decision to increase crude production beyond 10 million bpd starting in April.
In addition, the company also cut its official selling price for all crude grades for next month. This is likely to have a significant impact on the revenues earned by countries like the US and Russia from oil exports.