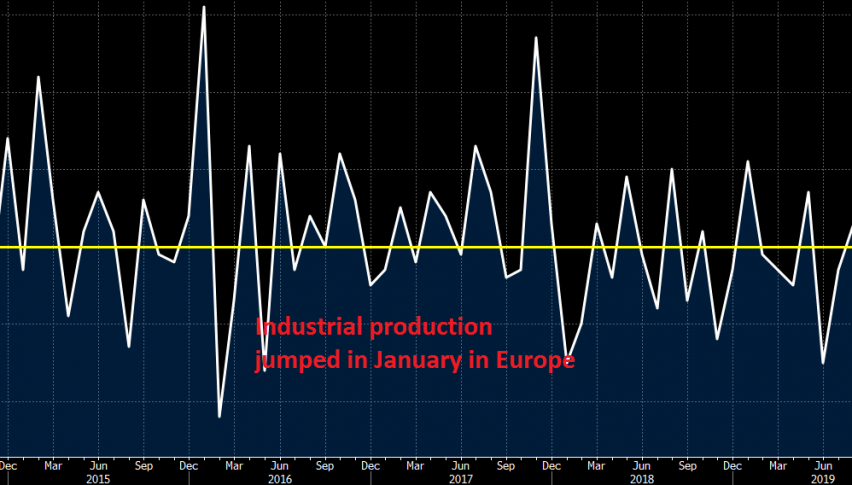 Industrial Production Jumped in January in Europe, But I Don't Think That Will Last
Manufacturing in particular and industrial production have been in a difficult position in the Eurozone during the last couple of year. The trade war was between US and China, but all the world took the hit and manufacturing in particular has been in deep contraction for a year in the Eurozone now.
Industrial production also declined in the last few months of last year, but it jumped higher in January. Below is the report for January:
Eurozone January industrial production +2.3% MoM vs +1.5% expected
December stood at-2.1%; revised to -1.8%
Industrial production WDA -1.9% YoY vs -2.9% expected
Prior stood at -4.1%; revised to -3.6%
So, January was revised higher to -1.8%, from -2.1%, but it's still negative. Although, in January industrial production jumped by 2.3%. I expect the numbers to get better for February, since imports of goods from China was reduced a lot that month as the virus peaked that month, so I assume the Eurozone and other countries filled the gap in industrial production that China left. But, March will be horrible, as the virus spread in Europe this month.
GBP/USD is testing the 200 daily SMA for the second time, which held for the second time last Friday
1 month ago
USD/CAD surged 150 pips higher today as the USD buyers returned, although it's the first trading day of 2023
3 months ago