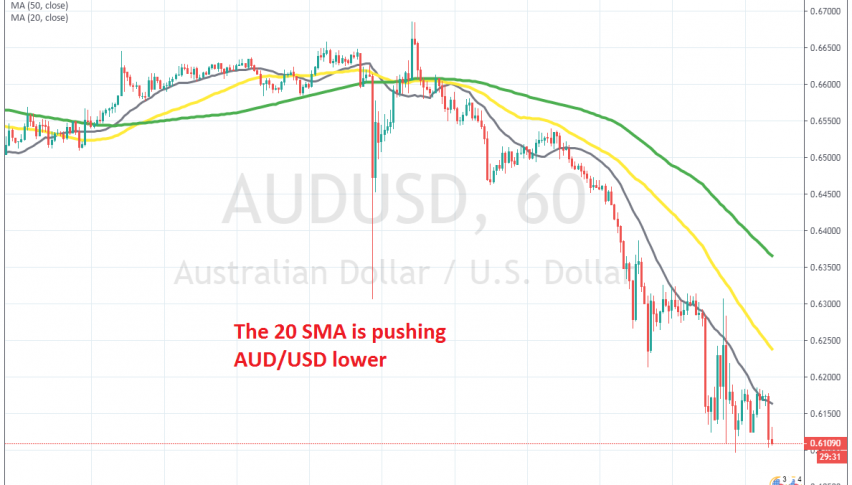 Sellers Remain in Charge in AUD/USD, As Smaller MAs Keep Pushing It Down
AUD/USD has turned quite bearish this month. The spread of coronavirus across the globe has scared the crap out of everyone and the sentiment has turned massively bearish, specially for risk assets such as commodity Dollars, stock markets and crude Oil.
The USD is also benefiting from its status as a world reserve currency, which has made the decline faster in the last week or so. AUD/USD has lost around 8 cents, from top to bottom in the week and it seems like the decline is only getting stronger.

This can also be seen from the moving averages, which are pushing this pair lower. The larger MAs like the 100 SMA or bigger, are not even able to catch up with the price, which has been pushed lower by the 20 SMA (grey) on the H1 chart. We saw a consolidation in the Asian session today, but once the 20 SMA reached the price, the decline resumed.
So, the downtrend continues for this pair and we will try to sell, after missing the opportunity today. We will wait for a retrace higher, or for the 20 SMA to catch up, and will probably go short, once a bearish signal comes, such as a doji/pin candlestick.
The US consumer is softening as intertest rates go up, which is a factor for the USD retreat and for the FED to stop hikes
11 hours ago