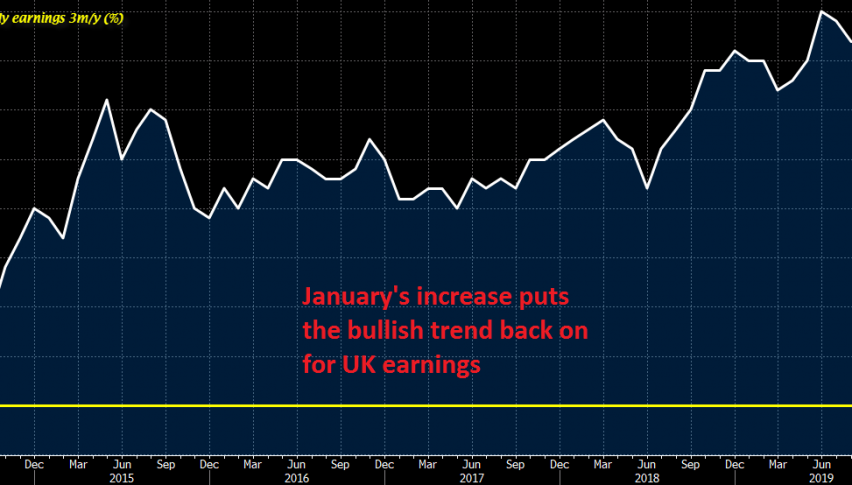 Earnings Increased Again in January in UK, But the GBP Doesn't Care
Average weekly earnings were holding up quite well in Britain last year, despite many factors which should have hurt them, such as the weakening global and UK economy, as well as the uncertainty from Brexit. Earnings peaked in July, growing at 4.0% on an annualized basis that month.
Since then, earnings have been weakening and in December they fell to 2.9%, which is still a really decent level, compared to other countries. January's report was released earlier today, showing that earnings increased again that month.
UK January Earnings Report
UK January average weekly earnings +3.1% vs +3.0% 3m/y expected
January stood at +2.9% YoY
Average weekly earnings (ex-bonus) +3.1% vs +3.2% 3m/y expected
Prior +3.2%
ILO unemployment rate 3.9% vs 3.8% expected
Prior 3.8%
Employment change 184k vs 140k expected
Prior 180k
UK January Employment Report
February jobless claims change 17.3k
Prior 5.5k; revised to -0.2k
February unemployment rate at 3.5%
January unemployment rate at 3.4%
So, the employment report leans a bit on the negative side, with the unemployment rate ticking higher to 3.9% and unemployment claims coming higher at 17.3k last month. But revisions for January were negative. So, ovrall, this report is quite good, with new jobs also coming up at 180k. But, no one cares for fundamentals now, when we know that the data for March and April will be horrible.
GBP/USD was rejected by the 50 SMA early in December, but is quickly back at it as the USD resumes decline on softer FED rhetoric
2 months ago