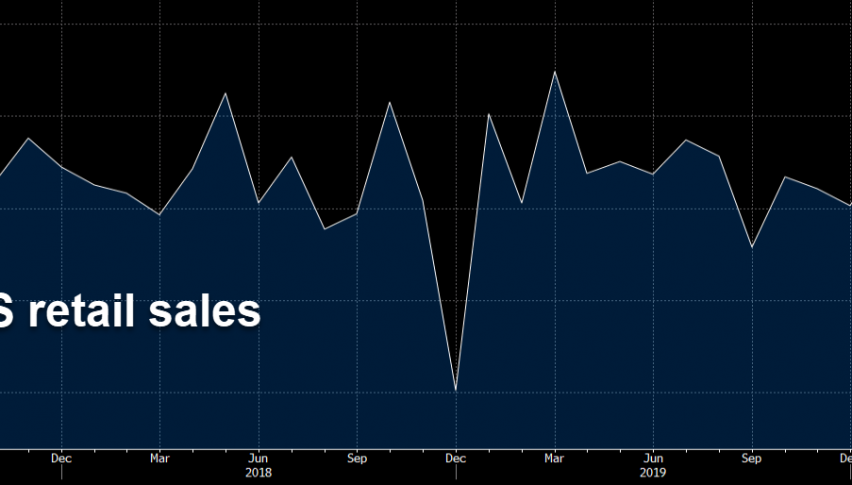 US Retail Sales Turned Negative in January, Even Before Coronavirus Spread to the US
The retail sales report form the US for January was released a while ago. Sales have been positive since September last year, growing at a steady pace by 0.3% on average. Not much but now that coronavirus is killing major economies, that growth seems great.
In January though, sales turned negative in the US, falling by 0.5%, while core retail sales declined by 0.4%. Although, the revision for December in headline sales was quite positive, taking December to 0.6%. But, that's the past, the present and the future look bleak.
US January Retail Sales Report
US February retail sales -0.5% vs +0.2% expected
January was +0.3% (revised to +0.6%)
Core sales ex. autos -0.4% vs +0.1% expected
Ex autos and gas -0.2% vs +0.3% expected
Prior ex autos and gas +0.7% (revised to +0.4%)
Gasoline sales -2.8% vs -0.4% prior
Control group 0.0% vs +0.4% expected
Prior control group 0.0% (revised to +0.4%)
US February Industrial Production Sales Report
US February industrial production +0.6% vs +0.4% expected
January was -0.3%
Manufacturing production +0.1% vs +0.2%
Capacity utilization 77.0% vs 77.1% expected
Prior was 76.8%
We might see a jump in retail sales for February or March, as people rushed to buy groceries and household consumption stuff, like toilet paper, as I heard there was a shortage of it for some time in the US. Yes, we should be clean, but toilet paper doesn't cure or prevent coronavirus.  Industrial production on the other hand, jumped 0.6% higher in February. But, as I say, these numbers show the life before coronavirus, now life is different.