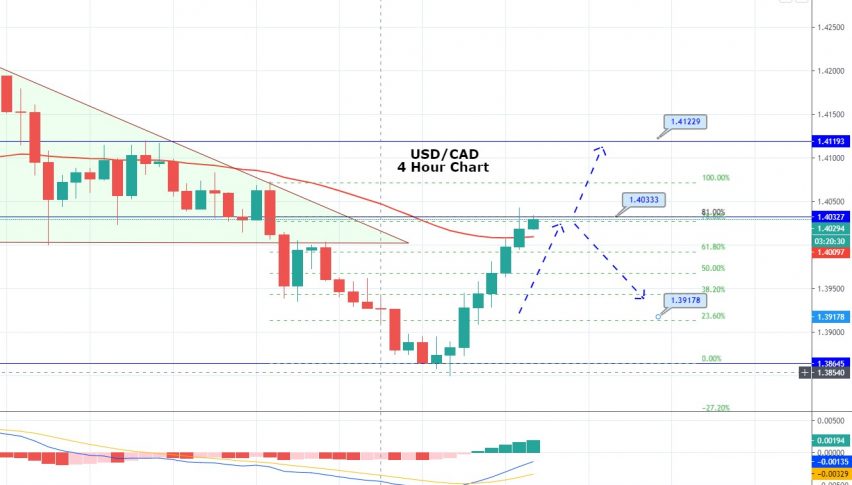 USD/CAD Completes 61.8% Fibonacci Retracement – Quick Trade Plan
What's up, traders.
There has been a dramatic movement in the USD/CAD pair lately, and there were multiple reasons behind it. Let's explore then together. Basically, USD/CAD closed at 1.39443 after placing a high of 1.39585 and a low of 1.38502 yesterday. Overall, the movement of pair remained bullish throughout the day.
The pair dropped to its lowest point of 1.3850 since mid-March on Thursday but managed to close its day by posting gains. Earlier in the trading day, USD/CAD started to drop with the increased strength of the Canadian Dollar on the back of a recovery in crude oil prices. Before going into a consolidation phase, []WTI]] crude oil posted its nine-day high price of $18.57, which helped the commodity-linked Loonie to gain strength against the US dollar.
This caused a drop in the prices of USD/CAD to its lowest since mid-March. However, after the release of macroeconomic data, the pair picked its pace towards the upside and continued moving in the same direction for the rest of the day. The data revealed that the Gross Domestic Product of Canada contracted in the month of February.
At 17:30 GMT, the GDP for the month of February showed that the economy of Canada was affected when it came in at 0.0% against the expectations of 0.2%. The lower than expected value of closely watched GDP data weighed on the Canadian Dollar on Thursday, and hence the pair, USD/CAD, was supported.
The Industrial Product Price Index (IPPI) from Canada for the month of March showed a decline of 0.9% against the expected decline of 1.9% and supported Loonie. The Raw Material Price Index (RWPI) came in line with the expected -15.6 for the month of March.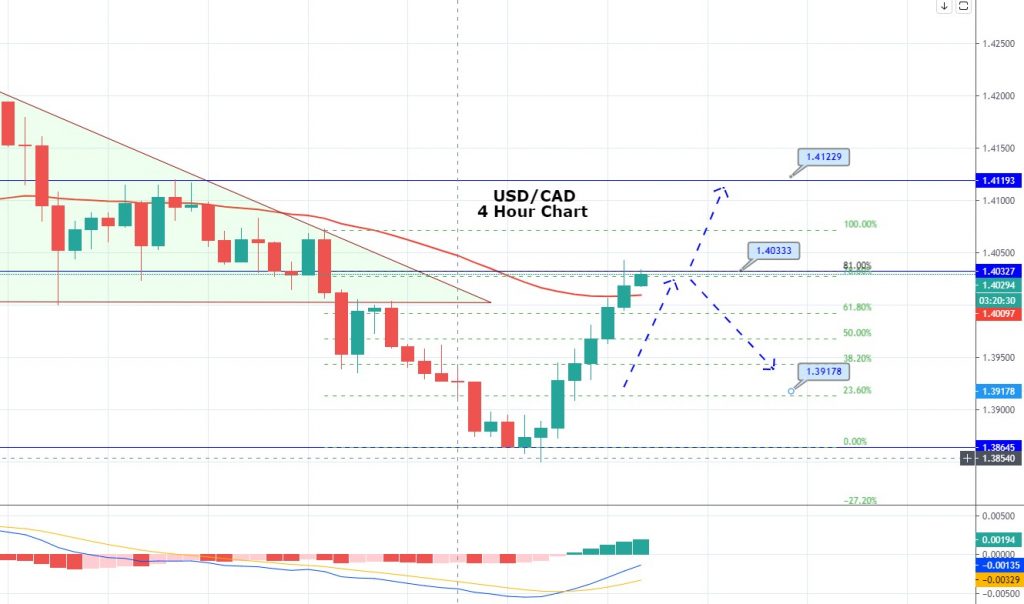 Technically, USD/CAD has not only completed 61.8% Fibonacci retracement at 1.3995, but it's heading further higher to reach 78% level at 1.4030, and this level has a potential to hold the Loonie there. Previously, the 1.4030 level has worked as a support, and now it's going to extend resistance to the pair. Closing of candles below this may offer us the opportunity to short and capture quick 50/60 pips until 1.3950. However, the bullish crossover can open further room for buying until 1.4070 level.
Honestly, the recent candles have been very bullish; in fact, we have three white soldiers pattern on the 4-hour chart, but right now, bulls need a breather. So, let's keep an eye on the 1.4035 level to decide whether to short or go long. Good luck!