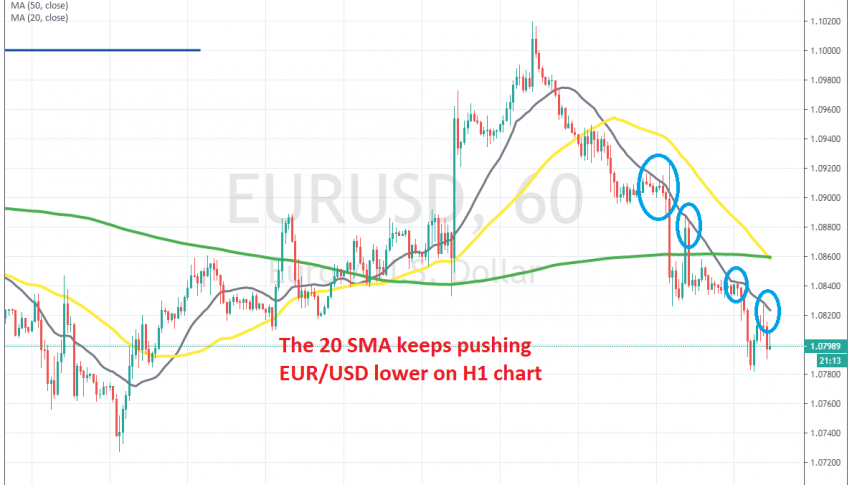 The Trend Has Turned Bearish in EUR/USD, As the 20 SMA Pushes Lower
EUR/USD went through some rough times in March as coronavirus spread in Europe and panic set in. We saw some major moves 7-8 cents up and down. At some point, this pair climbed to 1.15 as the virus spread in Europe, which didn't make much sens, but then returned back down and fell to 1.0630s.
The volatility continues, but the moves have become smaller. The range-bound trading continues, although it has gotten narrower, as the uncertainty regarding the end of the lock-down continues. On Sunday buyers went for the upside, just in case before the weekend, but they weren't able to close the week above 1.10.
EUR/USD reversed back down from above 1.10, after piercing it briefly and the traffic has only been in one direction this week. During the decline, moving averages have turned into resistance, with the 50 SMA (yellow) doing so first immediately after it was broken, then the 20 SM A(grey) took it's place.
The 20 SMA has been pushing this pair lower since then. We saw a pullback higher earlier today, but the 20 SMA stopped the retrace and reversed the price back down. So, sellers remain in charge and the pressure is quite strong, as long as the 20 SMA keeps pushing this pair down.
The US banking sector is having more troubles than European banks, which should keep the FED dovish, and risk assets bullish
5 hours ago