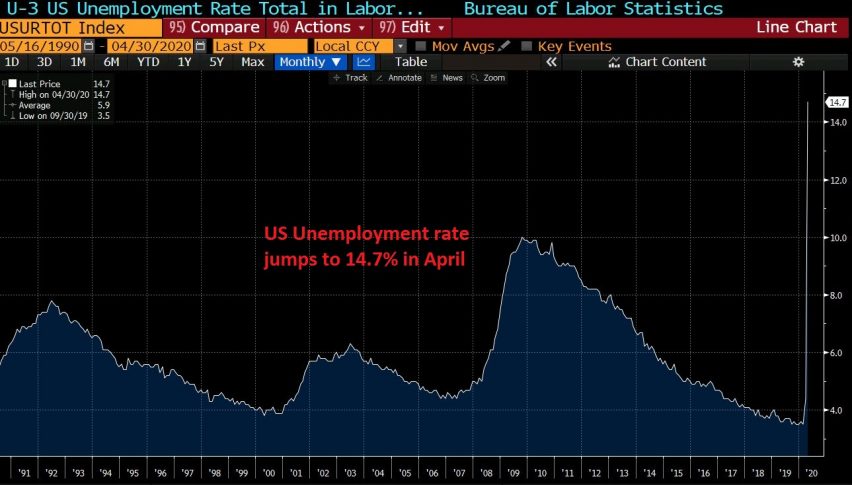 USD Reverses Higher, With the Jobs Report Not As Horrible As Expected
The world economy is going down the drains with the extended lock-down as everything remain closed, apart from some essential businesses. The situation has deteriorated considerably from March to April, with the unemployment rate jumping to 14.7%, from 4.4% in March.
The unemployment rate was expected to jump to 16%, as the median forecast and the layoffs were also slightly lower than estimated. Markets saw this as a positive thing for the USD, which has climbed around 30 pips higher now, from the bottom earlier on. Below is the US jobs report:
US Employment Report, April 2020
Nonfarm payroll -20,500 vs -22,000K. March revised down to 870K from -701K previously reported
2 month payroll revisions-214K
Private payrolls -19,520K versus -22,000K estimated
Unemployment rate 14.7% vs 16.0% estimated
Manufacturing jobs -1,330K vs -2,500K estimated
Average hourly earnings MoM 4.7% vs 0.4% estimated
Average hourly earnings YoY 7.9% vs 3.3% estimated
Average weekly hours 34.2 vs 33.5 hours
Labor force participation rate 60.2% vs 61% estimated
Labor Department said large number of workers classified as employed, but absent. That likely The unemployment rate at 8 number better than estimated him
The US labor department is out saying that the unemployment rate would be around 5% higher if workers were classified correctly. That would take the unemployment rate to near 20% (19.7%), which is enormous. So, chances are that things might be worse than expected, but traders are leaning on the USD still.
GBP/USD was rejected by the 50 SMA early in December, but is quickly back at it as the USD resumes decline on softer FED rhetoric
2 months ago