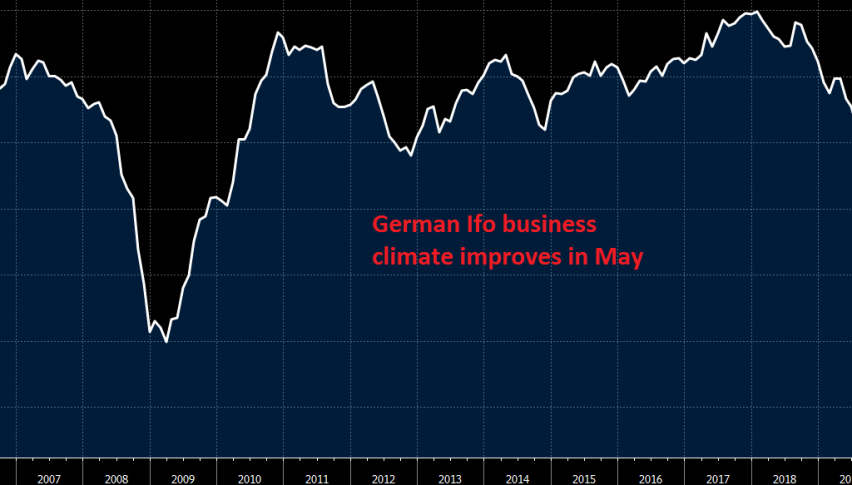 German Ifo Business Climate Improves in May, as the Country Starts to Reopen
The business climate deteriorated in March in the Eurozone and in Europe and it fell deeper into the abyss in April, as the shutdown continued last month. The dive in April was the deepest ever, which was expected. Although, there's some improvement in May, as the country starts to reopen. Ifo economists are also feeling slightly optimistic, but they are being cautious. Although, this is slightly positive for the Euro.
Germany May Ifo business climate index
May Ifo business climate index 79.5 vs 78.5 expected
April business climate 74.3 points; revised to 74.2
Expectations 80.1 points vs 75.0 expected
April expectations at 69.4 points
Current assessment 78.9 points vs 80.0 expected
Prior 79.5 points; revised to 79.4
The headline reading rebounds slightly off the historic lows in April but overall sentiment remains subdued, as is seen with the current assessment reading – despite the bounce in expectations. It basically tells us that with lockdown restrictions being eased, conditions are expected to improve; but the current situation is just mildly better than in April and nowhere near levels seen before the coronavirus crisis.
Comments by Ifo economist, Klaus Wohlrabe
Gradual easing of lockdown offers a glimmer of hope
German economy sees light at the end of the tunnel
Business climate in industrial sector improved significantly
But firms are still far from being optimistic
The easing of lockdown is improving mood among retailers
The good news is that overall sentiment has definitely improved relative to the full-scale lockdown seen in April. However, while there may be light at the end of the tunnel, it is likely to be a long tunnel than any quick path out of the darkness.