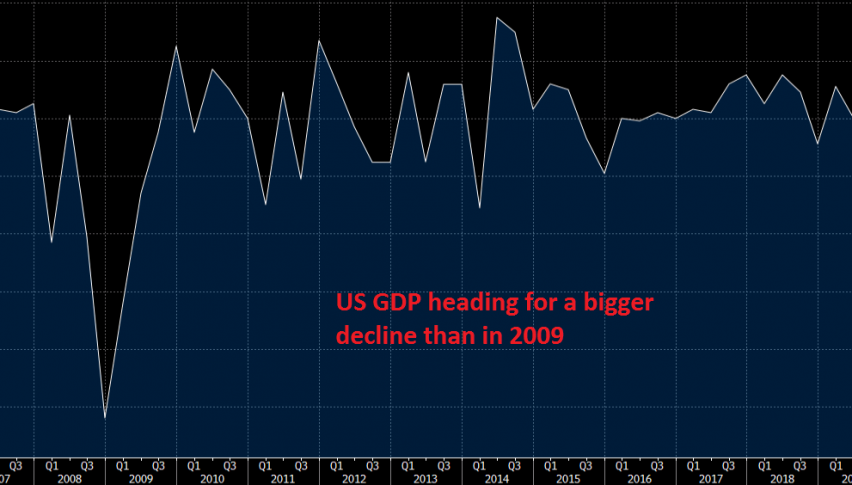 US GDP Contracts by 5% in Q1
The global economy weakened considerably last year, as central banks kept drying up the liquidity, which had kept economies afloat since the 2008-09 crisis, while the US-China trade war worsened the situation. Certain major economies were close to stagnation, but the US economy was holding up well, which was a positive thing for Donald Trump, heading into the election year in 2020.
But, coronavirus came and things went downhill very fast, as if intended. The US economy has contracted by a massive 5% in Q1, which I think will get worse in Q2, since the lock-down only started by the second half of March in the US. The contraction should be by 10% for the current quarter considering that the US has been closed during April and most of May, while the rebound will be difficult, taking into account that many small businesses will be gone forever.
US Q1 2020 GDP (second estimate)
US Q1 2020 GDP
First reading was -4.8
Q4 2019 was +2.1%
Details:
Final sales -3.7% vs -4.3% prelim
Consumer spending -6.8% vs -7.6% prelim
GDP deflator +1.6% vs +1.4% prelim
Core PCE +1.6% vs +1.8% exp
Gross private fixed investment -10.5% vs -5.6% prelim
Investment in equipment -19.7% vs -15.2% prelim
Exports -8.7% vs -8.7% prelim
Imports -15.5% vs -15.3% prelim
Government +0.8% vs +0.7% prelim
The spending side was a bit better after revisions but the overall picture worsened. This was the worst quarter since Q4 2008 but the current quarter will be much worse. The investment in equipment has posted an enormous decline of nearly 20%, but that's understandable considering the uncertainty ahead mach in Q1.